B4RN has 1,000 live ultra-fast premises
Wednesday, May 27, 2015 10:02 AM
Congratulations to B4RN who have now connected 1,000 premises, up from the 800 premises declared as live in February 2015. An updated map of the speed test results from B4RN users is shown below, and while speeds are not always pinned at 940 Mbps or so because of things like Wi-Fi and slower PC when you compare it with speeds for traditional providers in the area you can see the vast difference.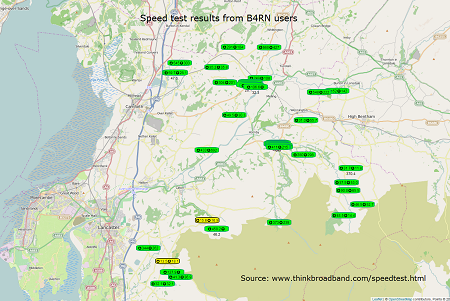 Click image for full size version.
The project broke its first ground back in March 2012 and according to ISPreview costs are running at £750 to £800 per property, but we are not certain if this includes free labour and the community nature also means costly wayleaves are often obtained for free (someone from B4RN has been in touch to say B4RN never pays for wayleaves) and also without the expensive time of a lawyer or two. While B4RN supporters are often vocal about being ignored by Government and local authority, this may be a blessing as with public money comes many more obligations and red tape.
Ambitious plans appear afoot to continue the network expansion and maybe reach 10,000 premises eventually. As things stand now there are over 300,000 premises that can get a FTTH/FTTP connection in the UK, with providers like Openreach, Hyperoptic, KC, Gigaclear, IFNL leading the pack, none of the more commercial providers appear to be close to the take-up levels of 60 to 70% reported by B4RN, though Gigaclear may be close. The high take-up says a lot about time taken to get communities on board.
If the roll-out of FTTH/FTTP through the CityFibre/Sky/TalkTalk joint venture delivers as promised and we may see 2015 as the turning point for FTTH availability in the UK. Ten years ago LLU was seen as expensive and a premium service until TalkTalk rocked the boat, while B4RN is rocking the boat in the final 1% of the UK it will need the larger providers to create the big waves that really get things going. If FTTH takes off, will that mean the BDUK investment was wasted? On one hand yes it will, on the other it could be said the investment stimulated demand and encouraged much more private money to be invested, only time will tell.
Comments
Post a comment
Login
Register