UFO coming to York with promise of Gigabit broadband
Tuesday, May 19, 2015 8:45 AM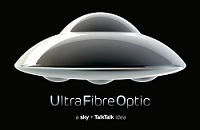 The branding and a registration website has landed and it is out of this world with a UFO theme centred around the name UltraFibreOptic.
The new advertising theme is a joint venture between Sky and TalkTalk to promote availability of the Gigabit fibre roll-out in York, as yet no sign of pricing but the promise that those registering and inside the footprint will find out very soon.
For a new uber geeky speed service the sign that the marketing people are winning rather than the geeks is in evidence with the headline speed 1000Mb in evidence when really it should be 1000 Mbps since the time period for a measurement is an important thing and in some places the Mb has been forced to MB making the service 8 times faster than it really is. Time to start watching for the first speed tests soon hopefully.
Comments
Post a comment
Login
Register