2.5 million homes have superfast broadband option via BDUK projects
Thursday, May 14, 2015 6:11 PM
Announcing the breaking of the 2.5 million homes passed barrier is one of the first broadband releases to come out of the DCMS since the General Election. The exact figures are that as of 31st March 2015 the DCMS believed 2,411,395 premises had the option of ordering a 24 Mbps or faster broadband service as a result of BDUK activity. This figure excludes premises slower than 24 Mbps, and those who because of overspill could already get a superfast service e.g. Virgin Media cable.
With the roll-out passing around 5,000 premises every day, it is very safe now the General Election is over to declare the 2.5 million barrier smashed.
"Access to superfast speeds has never been more important, in both our home and working lives. The Government's rollout of superfast broadband will make sure that rural homes and businesses are not left behind and that the UK is properly equipped to meet the challenges of the digital age."

Culture Secretary John Whittingdale
| Cumulative to end of: | Premises with superfast broadband service made available | BDUK funding (£) | Number of premises covered per £million of broadband delivery programme expenditure |
| --- | --- | --- | --- |
| December 2012 | 254 | £434,735 | 584 |
| March 2013 | 16,638 | £6,767,185 | 2,459 |
| June 2013 | 38,343 | £6,767,185 | 5,666 |
| September 2013 | 111,968 | £10,347,568 | 10,821 |
| December 2013 | 273,731 | £14,182,547 | 19,301 |
| February 2014 | 370,000 | n/a | n/a |
| March 2014 | 508,801 | £58,586,408 | 8,685 |
| June 2014 | 888,113 | £72,437,233 | 12,260 |
| September 2014 | 1,383,777 | £99,766,011 | 13,870 |
| December 2014 | 1,908,725 | £252,084,918 | 7,572 |
| March 2015 | 2,411,395 | £301,444,870 | 7,999 |
The money in the above updated table reflects what the BDUK has handed over to the local authorities to date, and thus the money received by BT will comprise this plus whatever has been invoiced for and paid by the local authority. In terms of Westminster the amounts work out at £125 per premise passed, a figure that will roughly double once the local authority contribution is added, but this contribution varies from project to project, so simple projections are difficult.
As always people raise doubts over the coverage levels declared by the projects and the DCMS which is why we spend a lot of time working out where coverage is and what effect this will have for people in the various parts of the UK, hence our availability checker. As of 12th May the UK had superfast broadband available to 82.7% of premises based on our analysis, with a higher figure 87.3% having fibre as an option, the difference being that our superfast figures work to the 30 Mbps minimum speed target. The DCMS figures are based on a 24 Mbps minimum target speed. The coverage across the UK is far from uniform as the four nations image shows.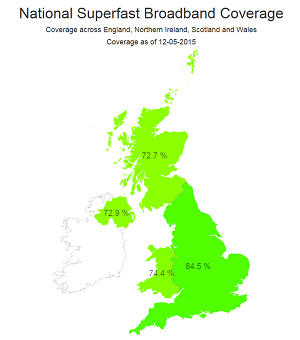 Click image for full size version
While the election may be over, the sub-division of the UK into 650 different areas is a great way to see quickly which parts of the UK are well behind the curve in terms of superfast broadband availability. Back in March 2015, our overall UK estimate was 81.3%, so if the same rate continues of 1.4% increase every 7 weeks the 90% availability of superfast broadband target will be hit in around 8 months time, so December 2015 or January 2016.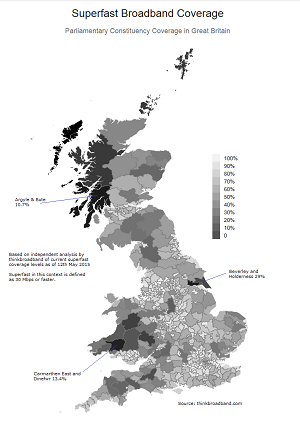 Click image for full size version
Northern Ireland constituences are not available on this map, but can be browsed at
labs.thinkbroadband.com/local
We should point out that the Superfast Broadband ambitions that have been in place since 2010 have never meant every community or local authority having at least 90% coverage and a uniform colour on our maps, but that the overall UK target 90% would be hit by May 2015, the end of 2016 is the most mentioned time frame. The fact it is an overall figure, means that the more rural areas may only see improvements to 40% or 50% coverage in the coming months, which while a major improvement will still leave plenty of work for the broadband extension projects currently being signed.
Comments
Post a comment
Login
Register