G.Fast at 330 Mbps to trial in three parts of the UK
Tuesday, April 21, 2015 2:23 PM
NGA2 which is what Openreach is calling the successor to the existing FTTC led roll-out is closer to becoming reality and by the time FTTC hits its tenth anniversary in 2019, a G.Fast roll-out is likely to be well underway, with G.Fast providing the speeds that Openreach believe people will need through to around 2025 to 2030.
A presentation at a UKNOF meeting(UK Network Operators Forum) revealed that in addition to Gosforth and Huntingdon as trial locations, parts of Swansea will be taking part. The trials will be looking to pass some 4,000 homes and trial two options G.Fast and a new faster Fibre on Demand product. The G.Fast product is currently being touted as an up to 330 Mbps downstream connection with 30 to 50 Mbps upstream speed, with a bandwidth priority of 80 Mbps across the Openreach fibre element. The full fibre FoD option will look at 500 Mbps to 1 Gbps type speeds. The trials which are set to last for a good few months starting this summer are likely to be interesting, but do not get too excited as since things stand the service will cease once the trial is over, i.e. this is a real trial not a soft launch of the full product.
There are other developments still on-going for existing VDSL2 services, such as the Single Order GEA service, which will do away with a voice connection all the way back to the exchange. It is looking very likely that which ever retailer is pushing the development is looking to use a VDSL modem/router that re-creates the phone socket, since Openreach are developing an isolating faceplate that will pass through VDSL2 to the modem/router, while still supplying voice connectivity to extension wiring in a home, without the voice signal leaking onto the Openreach copper network.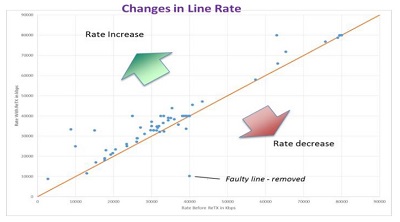 Click image for full size version
The ReTx (G.INP) trails got some exposure over the problems those who have ended up with ECI hardware on a Huawei cabinet are encountering, but the chart above shows why ReTx has been pushed on, it can give a 1-2 Mbps throughput boost and importantly for video streaming and gaming it reduces the number of errors people are experiencing. Vectoring which is under trial and is increasing its footprint should give a lot of the speed people have lost to crosstalk back, but this is proving to be at the expensive of long sync times, generally three times longer than usual for VDSL2 (with vectoring around 130 seconds), hence why keeping error rates low is important.
One development that we have been seeing happen more and more is copper rearrangement to put lines onto more logical cabinets, though this is still very dependant on the coverage target in an area and levels of manpower, so even if you think its perfectly logical for you to be moved attempting to request it as an individual will fail. It would appear that in the next two to three years we may see the number of street cabinets grow by an extra 3,500 as more PCP with fibre twins (or combined units) are deployed to resolve clusters of long lines. In a couple of cases we believe we have encountered people where the checker gives two different answers i.e. one for the address and one for the phone number as a result of new cabinets, though mainly this is an EO problem as cabinets are added.
For those who think the checkers are always wrong, and we have reported in the past that the Openreach speed estimates are based on the distance to the DP (e.g. final telephone pole), which means premises stuck down a long lane or drive will currently not have this extra long copper distance taken into account. The Openreach checker presumes a 5.5dB loss for all 29 million lines between the DP and premises, but new data will be used to refine this and will be an important part of the work towards rolling out G.Fast to ensure that decisions on where G.Fast nodes are located is sensible in terms of providing the best speeds, as well as trying to avoid disappointment for those who area a FTTC service and get well under the estimated speeds.
Comments
Post a comment
Login
Register