Sky adds 100,000 broadband customers in the last quarter
Tuesday, April 21, 2015 9:55 AM
The latest results from Sky are described as excellent in the press release, though given The Simpsons is a staple on Sky 1 one cannot but imagine someone in Sky HQ saying this in a Mr Burn's accent while tenting his fingers.
A lot of the reason for the excellent take on the latest results is that they added 100,000 new broadband customers in the quarter taking them to over 5.5 million and while network costs grew by 4% this was below the rate of revenue growth. NOW TV appears to be growing nicely, and while channel packages are more limited than the satellite packages generally the most popular shows like Game of Thrones drive sales. The NOW TV sports passes are seen as expensive by some, but with over 1 million sold in the financial year to date and a record of 36,000 on the day of a football match between Liverpool vs Manchester it is clear there is an audience for the service.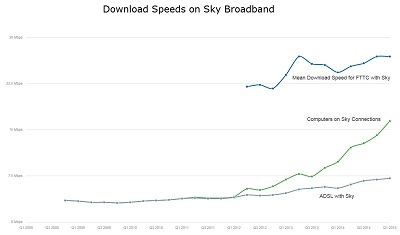 Click image for full size version
The financial results were sparse in terms of talking about fibre and the future of broadband, but the analysis from our speed test shows where Sky stand in terms of speed, and while the vast majority of customers are still on the ADSL2+ based services as linear TV moves more into the on-demand world of NOW TV more people will elect for the faster speeds that FTTC can provide.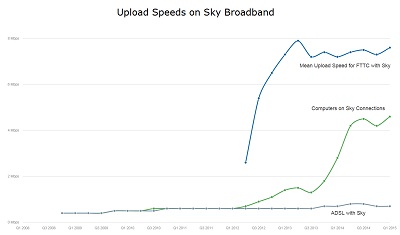 Click image for full size version
Comments
Post a comment
Login
Register