Virgin Media 300 Mbps ultrafast cable service spotted
Sunday, April 19, 2015 11:24 AM
While we still have no official timeline yet from Virgin Media the signs of the new top speed package from the cable provider have started to appear, with evidence for a 300 Mbps product appearing in our speed test database, this is only a short while after spotting testing of the 200 Mbps product.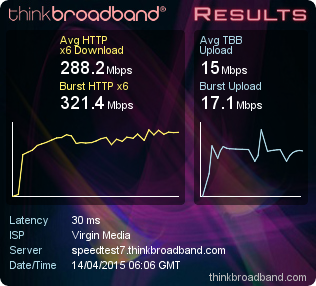 Evidence for new top speed tier at Virgin Media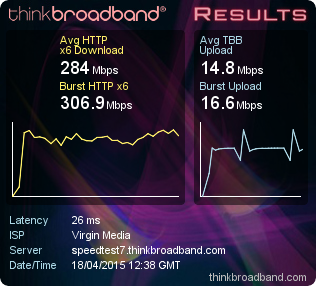 Another test from a different part of the UK
If 100 Mbps, 200 Mbps and 300 Mbps tiers become the standard fare for Virgin Media in 2015 or 2016 this will put the UK very much on the right path towards meeting the current EU Digital Agenda targets (everyone on 30 Mbps or faster and 50% with a 100 Mbps or faster connection) and if the £3bn Virgin Media network expansion goes to plan by 2017 we might have two-thirds of the UK with access to these 300 Mbps speeds if they want to order it.
In the last six years Virgin Media average download speeds have risen from 7.6 Mbps to 52.1 Mbps (upload change was 0.5 Mbps to 6.1 Mbps) and even with the tendency for people to opt for the cheapest package in a broadband line-up we will most likely see an average of around 100 Mbps, and with four million customers this will also have a significant impact on the overall UK result.
Comments
Post a comment
Login
Register