Hints of the forthcoming Virgin Media speed changes
Friday, April 10, 2015 12:36 PM
Virgin Media is yet to announce its upgrade programme schedule that once completed should see customers on 100 Mbps, 200 Mbps or 300 Mbps download speed products.
Invariably one of the things someone does with a shiny new broadband connection is test it and see whether it can reach the speeds suggested and those taking part in the pilots appear to be doing exactly that.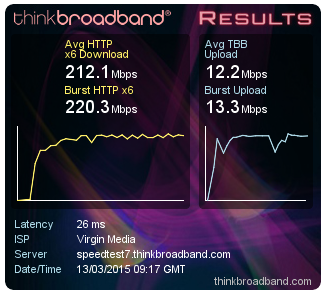 One of a growing number of Virgin Media speed tests at faster speeds
This test was done using our newer version of the speed test at labs.thinkbroadband.com/speedtest with the older version still available. So if you do see faster than expected speeds on maps.thinkbroadband.com for Virgin Media it suggests someone on the pilots is in that area.
What is clear is that the launch of faster Virgin Media products will push the UK average broadband speeds even higher, and while many will be happy with the extra speed, this will widen the gulf between those able to get anything superfast or ultrafast and those stuck in areas where no significant upgrades have taken place for a number of years (e.g. exchanges with only IPStream Max (up to 7 Mbps downloads over ADSL) as the only broadband option).
With the average speed test results for Virgin Media currently running at 52 Mbps, we might see this leap to 100 Mbps, but when this will happen depends on how fast the roll-out of the network upgrades is and how many decide to remain on legacy packages. Upload speeds are generally expected to be 6 Mbps, 12 Mbps and somewhere in the 15 to 20 Mbps region for 300 Mbps service. Though as with previous upgrades, sometimes the download speed is upgraded before the upload.
What is clear from our own testing of Wi-Fi based connections is that even with decent AC based equipment to get the best speeds an ethernet cable is still king or you need to be in the same room as the wireless access point. One concern as 802.11ac grows in popularity is that with its option for an 80 MHz wide channel it may introduce the congestion issues to the 5 GHz band that many are only just escaping from on the invariably full 2.4 GHz band.
Comments
Post a comment
Login
Register