Relish chosen to bring superfast broadband to 99.4% of Swindon
Thursday, March 19, 2015 2:40 PM
Swindon is providing a perfect opportunity for alternatives to BT to show what they are really capable of as UK Broadband (Relish) has been given approval to go ahead with a £1.9 million project to go ahead with installing 16 masts to ensure coverage at 99.4% of homes in the Swindon council area.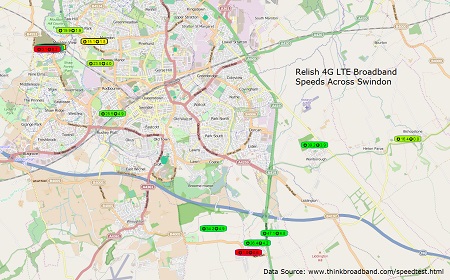 Click image for full size version
The map above includes Chiseldon (cluster of tests in southern part of the map) which has been taking part in the trial with the Parish Council keen to promote the 4G LTE solution now they've experienced speeds of 38 to 40 Mbps after previously having just 1 to 2 Mbps. The dense area of tests in the west area of Swindon when zoomed in shows more of what the superfast 4G LTE solution can provide.
The largest part of Swindon that has been calling out for superfast broadband has been the new build estates in the north near the Orbital Retail Park, and while some homes have access to Virgin Media cable the majority of the growing community are still on ADSL2+ with speeds ranging from 1 Mbps to 17 Mbps with the average running around 10 Mbps.
As things stand currently the combination of BT and Virgin Media means 81.5% of households have the option of a superfast service at 30 Mbps or faster (74% have the ultra-fast 152 Mbps option), so boosting this to 99.4% will be a significant leap so long as the speeds are a decent way above the bare minimum 24 Mbps threshold. A quick calculation puts the cost of the project at around £119 for every property that will gain access to superfast broadband and does not already have access.
Comments
Post a comment
Login
Register