Thousands rate their broadband providers and small is big
Monday, March 16, 2015 9:51 AM
After many years of not highlighting our broadband provider ratings that thousands of you vote for every month, we thought it was worth giving them a bit more of an outing than the use Compare Broadband page.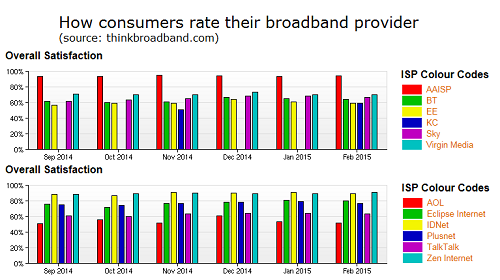 Click image for full size version
The overall satisfaction rating is remarkably consistent for most providers over time and reveals that some of smaller more techie oriented providers are doing significantly better than the big name brands. There is of course the reliability and customer service ratings to take into account and people may want to seek out our monthly speed test results news item to get some idea of how the actual download and upload speeds vary between the providers and connection types.
Comments
Post a comment
Login
Register