uSwitch claims to name UK fastest and slowest streets
Wednesday, March 11, 2015 10:37 AM
uSwitch is back with its fastest and slowest street data once again and we have taken a look at the list of streets and found the list of the fastest streets to be totally missing the availability of 1000 Mbps (Gigabit) services and in their list of the slowest streets they have overlooked the availability of some alternative results.
The latest set of results is apparently based on over 1 million consumer speed tests in the six months from August 2014 to February 2015, which while this sounds like a lot to the layman, when you consider the UK has 1.7 million postcodes alone and over 27 million premises means that the data should be reasonable enough to identify how different council areas and postcode groups but not to give statistically reasonable averages for individual streets.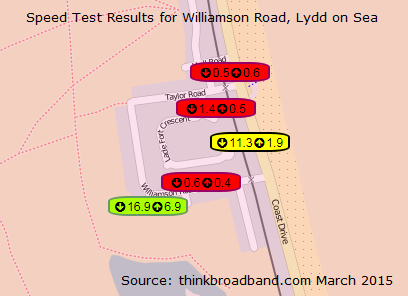 Click image for full size version
Williamson Road in Lydd on Sea in Kent was identified as the slowest road in the UK (uSwitch average 0.535 Mbps), but looking at our own data reveals that while ADSL/ADSL2+ based services are slow and in the 0.6 to 1.4 Mbps region in that road and adjoining roads, a faster service is available in the form of VFast fixed wireless. Another of the slowest streets was Styles Close in Luton with an average 0.8 Mbps download, we have some test data showing speeds of 1 Mbps, but a quick check reveals that FTTC is available to order, so the street should NOT be labelled as the third slowest street. We also are unclear how uSwitch can declare an average for the 31 houses in Styles Close based on their data volume.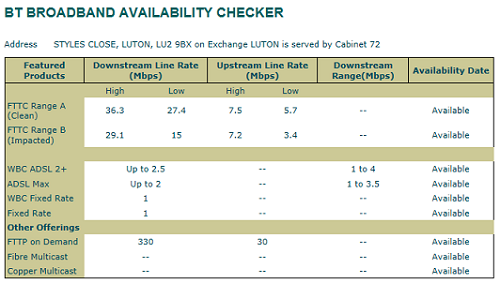 Click image for full size version
Of course doubts like this have not stopped lots of newspapers covering this as fact with headlines about postcode lottery speeds and so far all of them are not noticing areas like E20 which has Hyperoptic Gigabit services but also GEA-FTTP at speeds of up to 330 Mbps. Then of course there are the Gigabit villages created by B4rn that are also missing.
Update 4:15pm EE have been in touch to say that if residents of Williamson Road in Romney Marsh email [email protected] and supply proof of their address they can be provided with a free EE 4G superfast trial using a 4G WiFi 'Osprey' device with 6GB of data allowance pre-loaded. The offer is limited to one device per household and expires on 31st March 2015, with the data expiring after 90 days. For those looking to use 4G as a home based connection (assuming their data needs fit into the various allowances) then a full router like the Huawei B593 may be worth considering and should work across the various UK 4G providers with the appropriate SIM installed.
Comments
Post a comment
Login
Register