Gigaclear brings pure fibre to Uppingham boarding school
Wednesday, February 25, 2015 1:26 PM
One of the latest locations to benefit from the Gigaclear FTTH/FTTP network is Uppingham school which has some 800 boarders and the ultrafast speeds Gigaclear has brought to the pupils and staff has meant that usage has managed to exceed 1TB (TeraBytes) in a single day.
The roll-out to the school is also making FTTH at up to 1 Gbps available to the wider community in Uppingham. Fibre to the cabinet from Openreach and the usual long list of providers is available in the area too, with people posting results of 23 Mbps to 76 Mbps, so in the longer term Uppingham may prove to be a good case study to compare the appeal of Gigabit versus FTTC type speeds.
The expansion of Gigaclear is clear when we plot the recent speed tests we have from Gigaclear connections, showing the main Oxfordshire cluster, with Uppingham to the north and Underriver outside Sevenoaks in the south. With a good number of other villages under construction we should see a lot more dots on this map over the next 12 months.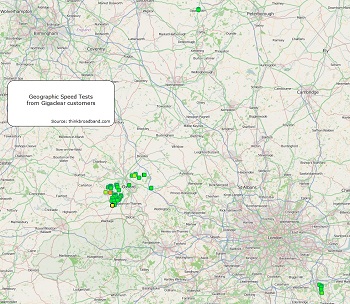 Click image for full size version
"We've truly seen the digital revolution change the way classrooms operate and how children interact with online learning. More and more schools are seeing the benefits of these rich, interactive forms of Internet and media based learning, and are seeing ultrafast broadband services like Gigaclear's as a way to cost effectively deliver these benefits. We're proud to work and partner with schools like Uppingham, helping them to educate Generation Z and working together to connect more people in their community to ultrafast commerce, entertainment and communication."

Matthew Hare, Chief Executive of Gigaclear
Comments
Post a comment
Login
Register