House of Lords calls for Internet access to be a utility
Wednesday, February 18, 2015 4:17 PM
One of the perennial problems with broadband and Internet is that at its core it is a technical field and we have once more in the last day being reading a report - this time from the House of Lords entitled 'Make or Break: The UK's Digital Future'. While the report makes a valid and worthwhile call for Internet access to be universal in the UK it neglects to provide any guidance on what sort of speeds should be considered. The UK already has a Universal Service Obligation applicable to BT and KC of functional internet access at 28 Kbps so it would be possible to reply we are already there, but we are sure the Lords meant something more like 5 to 10 Mbps to every business or households. Alas we cannot be sure as they did not say.
"43. We agree with our witnesses who urged that the Government should define the internet as a utility service that is available for all to access and use. This is the bedrock of digital competitiveness.

305. Objective 1: The population as a whole has unimpeded access to digital technology.

306. This includes:


facilitation of universal internet access: the internet is viewed as a utility; and
removal of 'not-spots' in urban areas

Extracts from lengthy report
A universal service obligation is a common request and it is interesting to see the report sing the praises of Cape Town which has a plan to manage universal coverage by 2030 and other places utilising libraries as drop in centres.
The UK is on its way to 90% superfast coverage in 2015 or early 2016 and stands at 80.9% coverage at 30 Mbps or faster by our calculations, with 85% with access to something that is fibre based. The Government has its programme (that is popular or unpopular depending on whether it will help you or not) that will deliver 95% coverage for 2017 (maybe 2018 if things are delayed) and is evaluating solutions to work out how much money would be needed to take superfast to the final 5% of the UK. Of course with a General Election looming this is scope for alternative visions and policies to be put on the table, but as yet no opposition party is talking of anything more ambitious.
One big elephant in the room is that if the UK defines Internet access as a utility it may enshrine the significant market power that BT has in the final third of the UK into law and actually make it harder for the more agile private firms that are actually helping extremely good broadband in rural areas.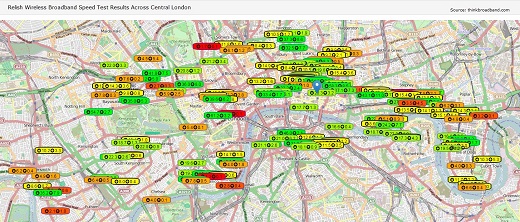 Click image for full size version (marker denotes City of London).
We published our speed test results for the London Boroughs back in January, and the map above shows how wide the presence of Relish who use 4G wireless technology to connect you to the Internet is across Central London which is one of the major not-spots of concern of late. The availability of superfast Openreach and Virgin Media consumer and very small SME type services is limited in the City of London at around 12.5% (total residential population under 10,000)just a few thousand residents) but alternatives exist like Relish alongside the large 4G mobile operators, which can easily be used with a dedicated 4G router.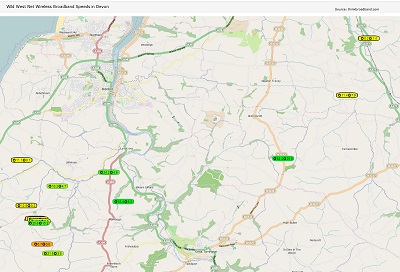 Click image for full size version.
Fixed wireless providers have often created themselves a niche and Wild West Net who offer a service in Devon can get speeds that are many times better than existing services and in areas that are often still waiting for superfast broadband via fixed lines which may not arrive until until 2018 or later. We actually have speed tests as far east as Rose Ash, Devon and up to Bratton Fleming in the North of Devon.
If we are to declare internet access a utility in the UK, then a lot more work has to be done to get the definition and legal obligations defined, otherwise we will stifle the innovation and drive that is often overlooked in the larger picture. The repeated calls by politicians for this to happen are worthwhile, but without legislative follow-up they are ultimately hollow platitudes.
Comments
Post a comment
Login
Register