B4RN connects 800 properities to its Gigabit service
Thursday, February 12, 2015 10:44 AM
B4RN is celebrating the connection of 800 premises to its point to point FTTH network which offers symmetric Gigabit speeds. This is a doubling of the number of connected premises in the 15 months since 350 was declared in November 2013. Though if this was a BT led project there would be committee meetings with the BT CEO in stocks as the original phase 1 target was for 1,451 premises in 2012.
The project almost revels in the publicity that the talk of over build by the LCC/BT project creates and to that end if B4RN were to furnish us with a list of the postcodes they currently serve we could add it to our maps and also track to what extent the overlap with the gap funded BT/LCC project is.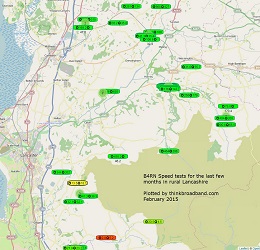 Click image for full size version.
Our speed test results show the extent of their network and the amount of work it will have taken to reach such diverse areas and while the project is delivering the fastest speeds in Lancashire the 800 locations are generally swamped by the over 700,000 premises in the rest of Lancashire with their ADSL, ADSL2+, cable and FTTC based services.
Speeds test results January 2015 in Lancashire
Area
Mean Download
Upper Quartile Download
Mean Upload
Upper Quartile Upload
Blackburn with Darwen
21.3 Mbps
29.8 Mbps
3.5 Mbps
3.7 Mbps
Blackpool
26.6 Mbps
37 Mbps
3.8 Mbps
6 Mbps
Lancashire County
11.2 Mbps
19.9 Mbps
4 Mbps
5.3 Mbps
Lancaster District
21.8 Mbps
27.4 Mbps
5.9 Mbps
6.4 Mbps
Preston
20.8 Mbps
32.7 Mbps
3.1 Mbps
4 Mbps
West Lancashire District
15 Mbps
21.9 Mbps
3.6 Mbps
4.4 Mbps
Comments
Post a comment
Login
Register