IDNet provides better broadband for Hitchin Industrial Estate
Thursday, January 22, 2015 10:55 AM
A common moan about the commercial Openreach fibre roll-out has been that is skirts around industrial estates, and the usual reason for this is that the revenue stream is the same on FTTC no matter whether its a business or a consumer buying the service, thus enabling the cabinets with the most number of customers on first makes sense when trying to balance the books. The dynamics have changed slightly with the BDUK process, since some EU funding is ring fenced specifically for business use, and some councils are keen to ensure their business parks do well.
IDNet who are based in Hitchin has dealt with the problems that Wilburn Way Industrial Estate in Hitchin was suffering, which was that both cable and FTTC services were available right up to the entrance of the estate but then vanished. IDNet has installed a fibre optic cable to the foot of a mast on the estate and is then using wireless to direct the signal to businesses on the estate.
"There is nothing stopping other industrial estates with connectivity issues doing the same thing. Particularly those on the outskirts of towns or in rural areas. It becomes cost effective once around half a dozen businesses decide they want to do it. Any business interested in adopting a similar 'EtherWiFi' solution in their neighbourhood can get in touch with me at IDNet and I'll point them in the right direction."

Steve Waters, IDNet business manager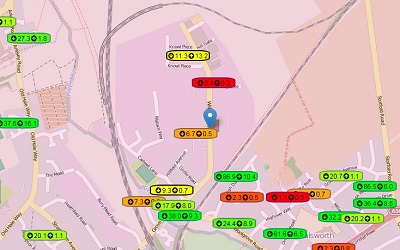 Click image for full size version.
The map above with the marker on Wilburn Way shows that while speeds were variable and with slow uploads any cloud based computing or uploading of images to websites, printers would be slow. The 13 Mbps symmetric speed looks to be a business that may have sourced its own symmetric leased line, which is always an option but often outside the budget of many small businesses.
Comments
Post a comment
Login
Register