Openreach line rental charges continue to diverge from retail price
Friday, January 2, 2015 10:25 AM
Openreach has published its line rental changes for April 2015 onwards and these show basic voice line rental decreasing by 13 pence per month and fully unbundled prices increase by 11 pence, this narrows the gap between fully unbundled and the traditional WLR products. This narrowing is mandated by Ofcom and is based on the high levels of competition that exist in the UK, where LLU is available to 96% of UK households.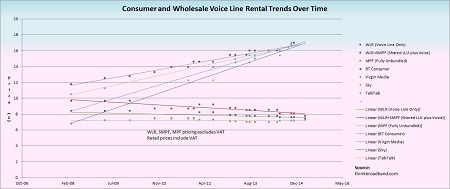 Click image for full size version.
The chart above was originally published in August 2014 but has been updated to reflect the new charges and changes in the retail price for voice line rental in the last few months. The divergence of the retail price and wholesale pricing is clearly visible.
The level of competition at the retail sector means the savvy consumer who is willing to switch provider can chase the best deals every 12 to 18 months and hopefully as 2015 progresses the new switching process from Ofcom will be rolled out after three years of work to deliver them and is well over due as more people are switching between the various full LLU offers and SMPF/WLR bundles.
Comments
Post a comment
Login
Register