UK internet economy driven by our online spending habits
Thursday, December 11, 2014 10:23 AM
Ofcom has the responsibility of tracking the European Broadband Scorecard that is being used to track whether the promises of successive Culture Ministers are being achieved and while we are certain there will be those that disagree there is some compelling supporting the notion that the internet economy in the UK is one of the strongest in the world.
With average online spending per consumer in the UK reaching £2,000 per for goods it is clear that internet shopping and bargain hunting is a major use of broadband, for comparison the next highest spend was Australia at £1,356 per head per year. This spending habit also leads to the online world commanding 40% of the advertising spend.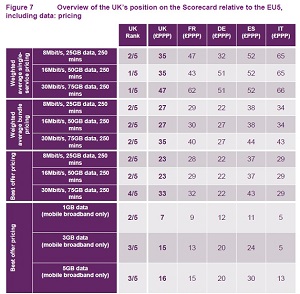 Price is an area where the UK public seem to be very sensitive, with people switching providers over 5% changes in their monthly telecom/broadband bills. So it is interesting to see the above chart putting the UK close to the top, and it should be highlighted that the tables include the voice element costs and do not include the promotional offers that of late have seen promotions where you do not pay the standard price at all during the minimum term.
The coverage of superfast broadband i.e. 30 Mbps and faster services being ahead of France, Germany, Italy and Spain will be something that pleases the politicians but we know that if you look at higher speeds the picture does start to change, particularly in the cities where many more apartment blocks have Fibre to the Building and 100 Mbps may be the minimum speed available.
Of course the current levels of superfast coverage are not the end goal, a stepping and controlled budget approach is the current path towards the eventual goal of everyone with a 30 Mbps connection in 2020. The rural/urban divide is a battle of wills that has existed since the first settlements were created and while rural broadband speeds do not match urban, they appear to be tracking with a lag of around a year and most importantly we are also seeing the lower quartile speeds increasing.
The debate over whether a higher speed goal should have been set will continue but raises the intriguing question that if a 100 Mbps minimum had been set to future proof connectivity for more than a couple of years would the roll-out have been possible at the same speed? And if not what would those waiting even longer have had to say about the delays.
Comments
Post a comment
Login
Register