20 undersea fibre runs completed in Scotland
Thursday, December 4, 2014 12:01 PM
Some twenty seabed crossings involving the deployment of some 250 miles of fibre optic cable have now been completed in Scotland and will definitely help to take faster broadband to the more rural parts of Scotland. The project cost some £26.9m and is part of the larger £146m Digital Highlands and Islands roll-out.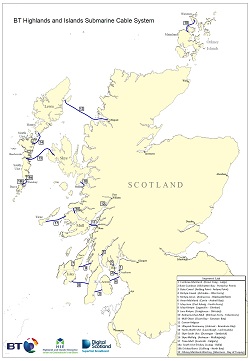 (click image for larger size)
"Today marks an incredibly important step in the completion of the most complex ever underwater engineering that Scotland has seen. It is a hugely impressive technological feat that work has been completed in such a short timescale.

In the coming months, thanks to the Digital Scotland Superfast Broadband Programme, many island communities will start to benefit from fibre broadband – that otherwise would not have received coverage. The rollout of superfast broadband will allow many households across our islands to connect to fibre broadband services for the first time, as well as giving businesses the opportunity to enhance their services.

Deputy First Minister, John Swinney
The work to improve broadband for those on the various islands is not complete, while Orange Marine have done the undersea work, Hampshire-based A-2-Sea Solutions have been working to connect the undersea cabling to the BT network on land and of course cabinets need deploying to bring up to 76 Mbps VDSL2 services to the homes and businesses on the islands (some premises may see FTTP as their superfast option, but the majority will be FTTC based).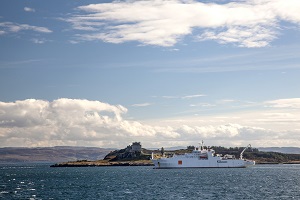 (click image for larger size)
Comments
Post a comment
Login
Register