Four out of five cabinets now live in Sutton Courtenay
Monday, November 17, 2014 12:37 PM
The first cabinet went live in Sutton Courtenay back in September and today has seen the Minister of State for Culture and the Digital Economy, Ed Vaizey attended the opening ceremony for the 4th cabinet on the exchange which is in his constituency (there is one cabinet left to enable and it is in the roll-out plans).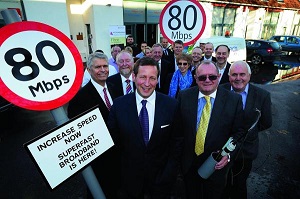 (click to image to enlarge)
The Better Broadband for Oxfordshire project like all the projects draws its critics like almost anything involving a local authority or Government but has declared that some 20,000 premises now have a fibre based service available to them.
The Sutton Courtenay exchange serves over 1,000 homes and businesses and we estimate that around 85% of those will get superfast broadband (30 Mbps or faster) once cabinet 2 goes live.
Comments
Post a comment
Login
Register