Airport Wi-fi speeds tested - Heathrow v Helsinki
Tuesday, November 11, 2014 12:03 PM
Wi-fi hotspots are popping up everywhere from cafes to tube stations and even on board coaches and planes, making sure you can be connected and updating social media on your comings and goings in near real-time. These days most of us use our mobile phones which have 3G data (or even 4G/LTE sometimes) so we don't rely on wi-fi hotspots as much as before. However many still use wi-fi hotspots on laptops and tablets without built-in SIM cards, so these can still be useful, and of course roaming data can also be expensive for visitors, so wi-fi can be a lifesaver to many a tourist.
We've been offering broadband speed tests for a while focussing on the home market and recently provided a round-up on speeds by provider. Our tester can of course be used on wi-fi networks just as well, so we took it to the departure lounge at Heathrow Terminal 3 to see how it looked, and suffice to say, it was rather disappointing for one of the busiest airports in the world.
This round-up of tests is far from complete and does not reflect a full peak versus off-peak profile, but the results were very clearly below what we would expect to see. Heathrow offers free wi-fi powered by Arqiva to everyone for up to 45 minutes just by providing your name, e-mail address and flight number, or 90 minutes if you're a member of Heathrow Rewards (which is free to join). Faster wi-fi is available if you're willing to pay extra which also lets you go beyond 90 minutes with services from £3 for an hour, £5 for 3 hours or £9 until the end of the day. Frequent travellers can pay £130 for a year's access too.
Here's what wi-fi speeds look like (on the free service):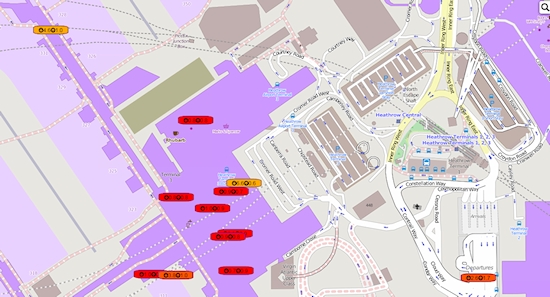 (click to image to enlarge)
By comparison, we ran tests at Helsinki Airport (Terminal 2) including a couple of days later during a very busy period and had speeds several times that offered by Heathrow; Helsinki's wi-fi is operated by the airport operator and is free for all passengers without time restrictions. Here's what it looks like: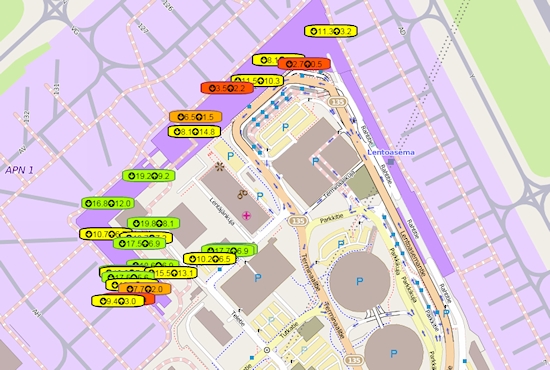 (click to image to enlarge)
Both sets of tests represent an hour's worth of data and some data points are averages so the number of tests in Heathrow was in fact slightly higher despite fewer data points, and of course it's just a snapshot; however the difference is stark taking into consideration most tests occurred when both airports were quite busy. Note the above maps include tests from 3G networks which in the case of Heathrow, were faster than the free wi-fi offered by the airport. It also includes two wi-fi networks in Heathrow other than the main airport-provided wi-fi which did on average perform slightly better, but still significantly below speeds available across Helsinki airport.
Comments
Post a comment
Login
Register