Mobile broadband speeds better than old fashioned ADSL services?
Wednesday, November 5, 2014 3:19 PM
ISPReview has covered the latest set of mobile broadband speed analysis by OpenSignal which competes with previous testing by rootMetrics. Our speed test has been tracking the speeds of the various mobile providers for a few years, so it seems like a good opportunity to share what levels of performance we see from the mobile operators and compare it to a fixed line service such as ADSL2+.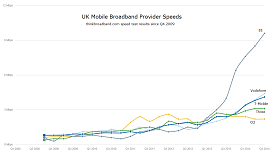 (click image for larger size)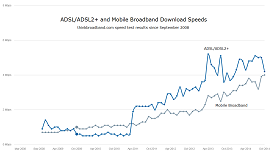 (click image for larger size)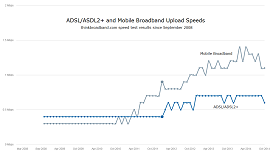 (click image for larger size)
Our results suggest EE has a clear lead for mobile speeds and is to be expected given the early start of the 4G roll-out which our chart suggests started to become popular in Q1 2014 and other providers have started to see a rise in speeds in Q4 2013.
While the expensive TV adverts may push superfast as the tag line and for those with the right 4G handset and the right location decent speeds are possible, the comparisons with ADSL/ADSL2+ show that fixed line copper is still beating the combined abilities of 3G/4G. FTTC based services in Q3 2014 managed a median figure of 31.7 Mbps versus 35.8 Mbps of DOCSIS cable showing these two technologies are a lot faster, but they are eclipsed by our recorded median for FTTH/P services of 95.5 Mbps.
The battle between ADSL2+ and mobile services is reversed when you look at upload speeds though and given the #selfie taking world we now live in the extra upload speed for social media updates will be seen as important by a lot of people.
While our core speed tester has been flash based for some years and our android tester app is at the end of its life, we added in the last year a tester that should work across the various mobile and tablet platforms.
Comments
Post a comment
Login
Register