12km of fibre to link just 2 communities in Staffordshire
Tuesday, November 4, 2014 8:37 AM
While the argument over what is and is not broadband has raged for over a decade the more recent arguments over what is and is not fibre broadband are the current flavour of the moment. Compared to the old ADSL services it is clear that FTTC while falling short of perfection in delivering fibre all the way to peoples homes like FTTH it is pushing the fibre closer and laying the foundations for a GPON FTTH roll-out in the future.
Staffordshire County has published a short update on progress and has highlighted two communities Marchington and Draycoitt-in-the-Clay as two recent communities to get FTTC (some 700 premises) as the result of running 12km of fibre to the cabinets. To expand on the official release we have checked and it is cabinets 1, 2 and 3 on the Marchington exchange that now have FTTC available from them after going live in October 2014. There is one very small cabinet not enabled that appears to serve several commercial buildings and a self storage facility.
"The high number of single track roads in this part of the county posed new challenges for engineers. However, by working closely with the County Council we were able to ensure engineers got to the more remote areas they needed to work in, whilst keeping disruption to local residents and motorists to an absolute minimum."

Steve Henderson, BT's regional director for broadband partnerships
Overall the project states that it has delivered FTTC to cabinets that serve some 20,000 premises and 290,000 homes and businesses can now order a fibre based service in the County (this includes the commercial footprint). The gap funded project is looking to deliver 500 cabinets and use around 1,000 km of fibre to link these back to the handover nodes (major exchanges).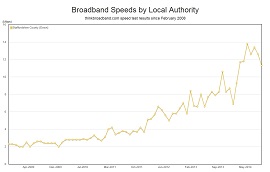 (click image for larger size)
Our speed test results show the progress for the county over the last five years with a median download speed of 11.3 Mbps in October 2014 (top quartile reached 30.8 Mbps, lower quartile 4.3 Mbps). The dip in speeds September and October appear to be mainly due to a dip in the speed of Virgin Media cable services that hit a peak speed of 36.9 Mbps (we have excluded Virgin Media business and Wi-Fi hot-spots from this so that it is a DOCSIS cable versus FTTC figure) in June 2014 and have slide since then to give a median of 34.5 Mbps versus FTTC based services at 32.3 Mbps.
In terms of current coverage levels in Staffordshire we estimate the current fibre based coverage of residential households to be 75% with line lengths dropping the coverage at superfast speeds to around 67%, the county has cable coverage of 33.6%.
Comments
Post a comment
Login
Register