What might Welsh project deliver in Llandudno and Abergele
Wednesday, July 2, 2014 9:20 AM
BT appears to have confirmed to a number of politicians in North Wales that Llandudno and Abergele exchanges in North Wales are set to get upgrades to deliver FTTC based services (and who knows maybe some FTTP) and the first cabinet activations will be in time for Christmas. Current status for both exchanges appears to be they are under evaluation, so one assumes BT has a raft of updates to push out the door or keep secret.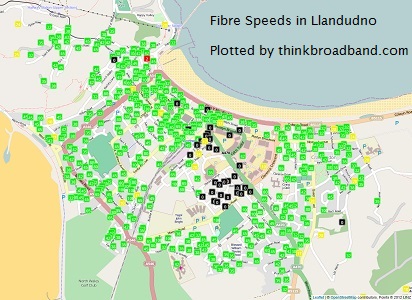 click image for higher resolution version
The big unknown is which cabinets on both exchanges will get enabled and what will be done for the Exchange Only lines. The map above and a similar map for Abergele shows what is potentially possible if all the existing green street cabinets get a fibre twin, but it seems unlikely that by Christmas all the cabinets on both exchanges will be live.
We calculated the overview for Wales back in June, and it needs to be emphasised that the 96% target in Wales is premises with the option to order a fibre based service, which means that the percentage able to get superfast type speeds will always be lower, how much lower is where most of the arguments are.
North Wales has so far seen the bulk of the work for the Superfast Cymru project leaving an increasingly annoyed group of people in mid-Wales who are worried that the project is going to miss them out.
Comments
Post a comment
Login
Register