Has your county told you about their broadband project?
Friday, June 20, 2014 12:20 PM
A common complaint about the BDUK projects is that beyond the photo opportunities most cabinets are quietly enabled and only the real geeks who are checking every week for their cabinets status will notice the upgrade is ready to order. It seems now that at least Surrey County Council has decided to run a mailshot to try and increase the awareness of what the project is doing and encourage people to check if a better service is available to them.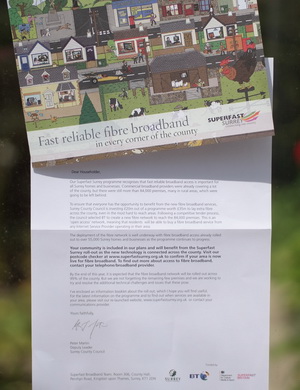 (click image for larger size
The letter really exists as a method to try and get people to visit superfastsurrey.org.uk where a basic availability check and more information on the roll-out is available. Surrey is fairly unusual in announcing collections of postcodes for areas where cabinets have just gone live too.
We ran a poll asking for feedback from visitors on the level of information from the various local authority projects earlier in 2014 and just over 10% indicated they had received some communications material, fingers crossed if we run the same poll later in the year this will have improved. Driving take-up to 20% and beyond is important as councils can claw back some of the funding if they drive uptake to this sort of level and this can be re-invested to push coverage further or returned to the council's bank account.
The Surrey leaflet makes it clear what the likely result of the project is and that is 84,000 additional homes and businesses will have access to fibre based broadband by the end of the project. When this is combined with the existing commercial roll-out the estimate from the project is that 95% will see speeds of 15 Mbps or faster at peak times. Our own estimate and spread of speeds for Surrey was published back in April, and if just FTTC is deployed we estimated 94.7% at connection speeds of 30 Mbps or faster, which once you allow for speed drops due to peak usage is in line with the councils own estimate. We do know that Surrey County Council is working on upgrading some Exchange Only lines in the county and is also deploying some native FTTP which if used carefully could eradicate the 1% we estimate getting 2 Mbps or slower.
While a full FTTH roll-out to the intervention would be a perfect outcome, given that the original input from the BDUK was just £1.3m in Surrey, with BT adding £11.8m and £20m from the council itself there was never going to be the funds needed to do a full FTTH roll-out which would have needed something in the ball park of £84 million.
Comments
Post a comment
Login
Register