Sky in Gigabit trials in Hampshire
Wednesday, June 18, 2014 4:24 PM
Campaigners are calling for more fibre to the home and it looks like Sky are spending money to find out how popular a fibre to the home service will be. The TV, phone and broadband operator is running a trial in limited areas of Hampshire that will see fibre to the home installed, with speeds up to 1 Gbps.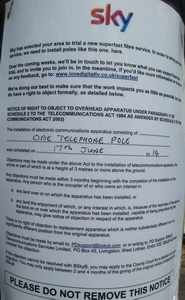 (click image for larger size
The new telegraph pole this notice is on is actually in Basingstoke with the picture supplied to us by Tim Robinson (thank you Tim) and suggests that more poles are on the way so that fibre can be easily run into peoples homes as the trial progresses.
The website for the trial talks of speeds around 15 times the UK standard broadband speeds but this is just for a Wi-Fi connection, the homes will actually be getting Gigabit connections and speeds of potentially 950 Mbps will be possible if using Ethernet and suitable hardware.
While the trial is of new Sky infrastructure it is being run by a Love Digital trial team. While no pricing is mentioned there is talk of a special offer to encourage people to sign up, and once the service is ready to be delivered to the first people we will be sure to hear on pricing and have emailed Sky to see if any more detail is forthcoming.
An interesting part of the project is that they talk of working with the Hampshire Superfast Broadband Programme who signed with BT back in 2013, so it is not totally clear what the level of co-operation may be, perhaps just ensuring that these trial areas are not already part of the gap funded project areas.
The UK broadband market place is increasingly showing more willingness to invest in actual infrastructure, with Sky also investing £5m in York as part of the first phase of FTTH to 20,000 properties in the city, possibly growing to 80,000 in the future. Who knows the safe and stepped approach that the BT Group Board has followed for broadband since its inception may come back to haunt them if roll-outs like what Sky appear to be planning prove popular and the operator can roll-out to significant numbers of homes.
Comments
Post a comment
Login
Register