Tracking superfast broadband adoption across UK regions
Tuesday, April 29, 2014 11:11 AM
Providing a broadband service that ticks all the boxes but that no one wants to order would be a total waste of time and thus we feel it is important to keep tracking the results from our broadband speed checker so that we can see how the UK broadband landscape is changing over time.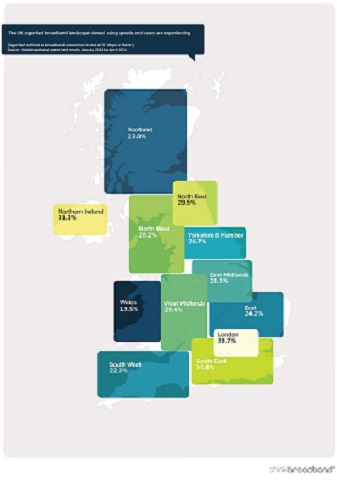 (click image for larger size
There is a school of thought that coverage for superfast services should not be counted until people have actually ordered and got the service installed, which is precisely what our speed test results can show. The data used to plot this regional analysis is based tests carried out from January 2014 to April 2014 and are an observed result rather than statistically derived figures that Ofcom use. We are using the stronger definition of superfast that the EU uses of 30 Mbps or faster.
While a speed test carried out by random Internet users has the potential to be skewed the large sample size involved and our averaging out of an individuals results to reduce the potential for someone running ten tests every day to skew a regional average is greatly reduced.
We are therefore confident that the figures shown here for the 12 UK regions reflect the reality on the ground in terms of what is actually available and what speed of service people have subsequently signed up to. Our speed test also includes a much larger set of providers than Ofcom monitors including fixed wireless and FTTH suppliers, for those UK providers we do not list the provider can simply get in touch with details of the IP allocation in CIDR notation.
We will look deeper into the speeds for smaller areas of the UK, including District Councils and Unitary Authorities over the next few weeks. While we record postcode data that in theory lets us identify individual streets we will not publish anything beyond a 5 digit postcode level (e.g. AB12 3) because to get anything statistically reasonable you would have to get almost all properties in each postcode to test their connection.
To give people an insight as to how much the situation varies across a region, the four districts with the highest proportion of superfast results (over 50%) are Lincoln (Median down 31.6 Mbps, up 2.8 Mbps), Rushmoor (33 Mbps, 2.9 Mbps), Ipswich (30.1 Mbps and 2.7 Mbps) and Mansfield (38 Mbps and 2.4 Mbps).
With the increasing roll-out by altnets and continuing increase in take-up of FTTC and speed upgrades from Virgin Media we hope to see better figures when we look at the results for May to July.
A small bit of speed test news, in addition to our flash based test that auto detects IPv4 or IPv6 for those with dual stack systems who want to force an IPv4 based test we have an alternative tester and for those who do not want to use flash, or are using a mobile or tablet there is the tester we have used for the 2014 ISPA Awards which uses the same infrastructure and is more than capable of handling any UK domestic broadband connection.
Comments
Post a comment
Login
Register