Poll Results: Do you consider your broadband fit for purpose?
Friday, April 25, 2014 10:05 AM
Our latest poll asked people whether they considered their broadband connection fit for purpose and over 1150 people responded with their opinion.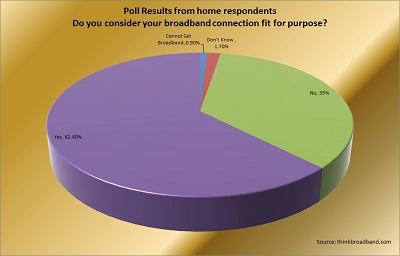 Click image for larger version
The results reveal that 62.4% of those responding as home users consider their broadband fit for purpose, but of those responding as a business or mixed residential/business use this falls to just 40.6%.
While the overall sample size gives us a good degree of confidence we should urge some caution on the size of the business sample which was just 266 votes. With something like 5 million businesses in the UK, a response rate of 1 in 4 is roughly in line with the ratio of businesses to residential properties.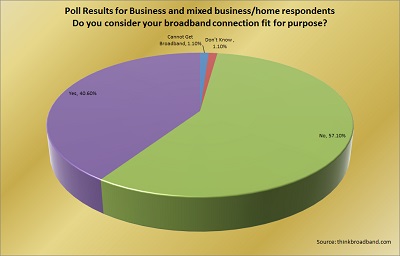 Click image for larger version
We could draw a conclusion with just 1.1% saying they cannot get broadband that some form of broadband is available to almost everyone, but since this was an online poll it would be dangerous to put any faith in that figure without further questioning of people.
The difference between the voting for how fit for purpose their broadband connection is suggests that business needs are different to consumers. The needs will also vary greatly depending on what the core business of a firm is, e.g. a financial adviser may be looking for an ultra low latency connection so they manage their stock own portfolio while a small high street shop might just need a connection that lets them order stock while a games studio might be wanting to lever cloud computing and require ultra-fast symmetric speeds.
While we know many small businesses are perfectly served by the large number of packages that are really consumer grade services with VAT invoicing, for those where it would be costly if their broadband was offline for a few days, we would recommend considering paying for higher levels fault resolution and planning to have a back up connection available.
Should we be expressing outrage that of the home based respondents 35% said their connection was not fit for purpose? Maybe, but with availability of superfast broadband running at between 65 to 75% depending on your outlook on life it looks entirely feasible that if the various local authority projects and continuing commercial investment deliver on their promises that this 35% should decrease over time.
With superfast broadband from Virgin Media or a provider using the Openreach available to around 18 to 19 million premises and take-up running at around 4.7 million (those cable customers on a superfast product and FTTC that is superfast) there is still lots of scope for people to improve their speeds if they want and can also afford it.
Comments
Post a comment
Login
Register