Ofcom calculates UK average speed as 17.8 Mbps
Tuesday, April 15, 2014 11:53 AM
The speed landscape of the UK is a complicated one with many parties doing their best to ensure their vision is the promoted one, and it this reason why Ofcom spends so much time analysing broadband speeds and has for some years produced a set of statistics to try and inform policy makers as to how the UK is doing. The latest round of testing by Ofcom using a panel of 985 hardware testers gives a UK average speed of 17.8 Mbps, a rise of 3.1 Mbps compared to May 2013.
The growth in the average speed is not because ADSL2+ has become faster, but that more people are buying fibre based connections via the wholesale Openreach service or Virgin Media. Our own estimate for the calculated UK average broadband speed is 23.7 Mbps and this is based on the financial figures to the end of 31st December 2013 and this takes into account the distance limitations of xDSL technologies, and is very close to a similar calculation by Ofcom which uses different statistical analysis to their main average to suggest a UK speed of 25.3 Mbps.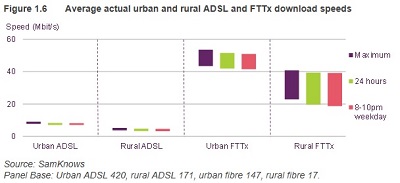 Click image for larger version
We know the urban/rural digital divide will be upmost in many peoples thinking and Ofcom seems to confirm the existence of the divide with the headline that urban FTTx (Openreach and Virgin Media) has an average speed of 46.3 Mbps and rural 29 Mbps. Alas we must urge caution as only 17 rural fibre based connections were used to draw this conclusion which is not enough location samples to get a full picture of how VDSL2 and Virgin Media perform in rural locations.
While software based speed testing is not used by Ofcom, our own tester at thinkbroadband has the advantage of having a lot more geographic data points and our last set of data in January 2014 shows the postcode lottery that takes place. Places like Crawley, Luton, Nottingham and Stevenage all show more than 40% of tests on our broadband speed checker are at superfast (30 Mbps or more) speeds, while at the other end of the scale Conwy, Purbeck, Derbyshire and Forest of Dean all have less than 1 in 40 tests at superfast speeds. As with all our speed test analysis we average out individual results to avoid one person skewing an area with thousands of tests.
If you want to play with various scenarios for where the UK may be in the future, this calculator will let you play with take-up and coverage figures.
Comments
Post a comment
Login
Register