Poll Results: Are up to speeds good enough?
Friday, March 28, 2014 5:15 PM
The start of a recent Which! campaign that is now over halfway towards its goal of 40,000 signatures in support of a broadband speed guarantee reminded us of a poll we ran just over a year ago on this very topic, and having just run it again with over 1,400 responses we now have the results.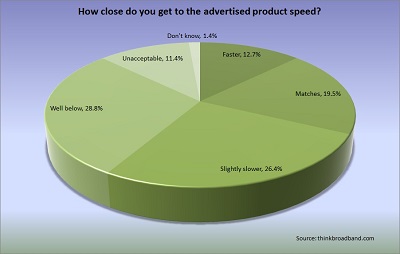 Click image for larger version
The pie charts are based on the 2014 responses, but we could easily have combined them with the 2013 responses, to give a poll of over 2,800 responses, since the two polls gave very similar responses even though taken thirteen months apart. The similarity is no surprise as there has been no massive regulatory changes to force any providers hand in terms of how they advertise their services.
The comparison with the advertised speed, where 12.7% are getting faster speeds than the adverts is an endorsement for providers generally following the 10% rule from ASA/BCAP which requires providers to advertise a figure that one in ten can actually get. In the couple of years since this rule has appeared it has done nothing to improve actual speeds though, and among those who do not follow every broadband change some explanation is needed when switching provider as they are now worried a new service will be slower.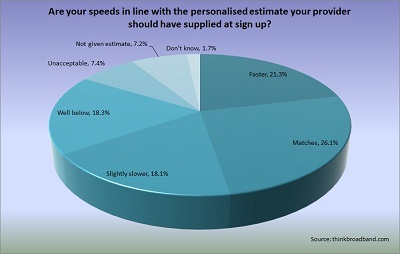 Click image for larger version
Getting the personalised estimate that people are told when attempting to sign-up to a broadband service correct can be challenging, and whether you think the above results are good or bad depends on whether you are taking a realist view or are chasing headlines. In the headline chasing world almost five out of ten get speeds below their personal estimate. Our forums though show people worrying when they see estimates being refined as actual line capabilities are fed back into the various checkers, with many making the false assumption that the checkers actually represent a speed cap for their service. The challenge for the broadband industry is to explain the simple reality that broadband speeds will vary based on many factors and this even applies to those on a full fibre optic connection (FTTH/FTTP) since the connection speed may be fixed but just as with the Virgin Media cable market, the actions of others on their network means that performance can vary from day to day or second to second. Even if a broadband operator with one hundred thousand 200 Mbps customers was to have 20 Tbps (20,000 Gbps) of capacity on their network, the Internet outside the providers network would be the bottleneck.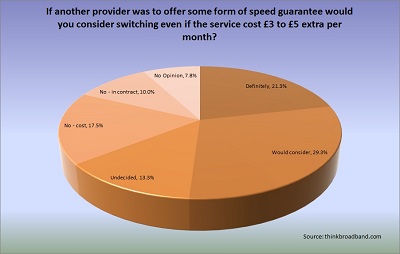 Click image for larger version
The idea of a broadband speed guarantee is very appealing, not just to the average consumer who is used to a 500ml bottled drink being very close to the labelled volume, but we also suspect that some of the desire for guarantees may be driven by the broadband switching market where ensuring a steady stream of switchers is key to the commercial well being of many comparison sites. Our poll does show that over half of people are interested in a guarantee even if it carries a price premium, the question really is what sort of guarantee would be technically and financially possible. Recent usage data from TalkTalk suggests that at peak times usage may peak at 1 Mbps per user, but if the superfast fibre based services were to be sold with a 1 Mbps guarantee compared to the current up to 38 Mbps we suspect many would presume this meant that streaming and other services stood no chance of working, plus getting people to upgrade from an existing ADSL2+ service would be a challenge. The nature of the Internet with all of us accessing data with little regard to its global location means that if a guarantee was to exist it could really only be a very basic one for services hosted within the broadband providers own infrastructure.
Comments
Post a comment
Login
Register