Latest Ofcom complaint data shows who needs to do more
Wednesday, March 26, 2014 4:49 PM
With our user forums and consumer ratings system it is always interesting to see how individual opinions vary so much from the average and another metric that can be tracked over time is the level of complaints that Ofcom registers and the industry regulator has just published its latest figures for the two years up to the end of December 2013.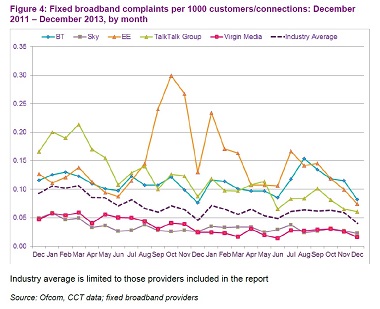 Click image for larger version
The above chart is the same data format as we featured back in 2012, and shows how much things can vary over time. These latest figures which show BT having the highest proportion of complaints for Aug, Nov, Dec 2013 will are obviously bad news for BT, but in terms of their own individual performance December 2013 has been their best performing month for two years, unfortunately for BT, providers like EE and TalkTalk have improved how they handle complaints or are simple generating a smaller volume of things to upset customers. Once you aggregate the results into a single quarterly figure, this is the first quarter BT has been the worst of the five.
The data for Sky and Virgin Media suggests that they are doing things right in terms of customer service having consistently had the lowest proportion of complaints for a long time, and our own ratings put these two providers ahead of the other three for a long time in the Customer Service category.
There is no breakdown of what the complaints actually were, but we are seeing more people posting moans in our BT section about price changes, which may be down to changes in what is free or not free with the voice line rental plus people are seeing price rises on their service when new customers are being charged less. Another favourite is where a new feature is added to a package or upgrade made available and it is offered to existing customers who either don't hear the warning about this extending their contract, or it is quickly glossed over during the sales spiel. It is a good idea if buying over the telephone to keep notes of the call or when ordering online to take a screenshot of the offer page.
Comments
Post a comment
Login
Register