Annoyed of Larne, Northern Ireland calls on BT to do better
Wednesday, February 5, 2014 1:12 PM
An interesting letter has featured in the Belfast Telegraph, it is from a resident of Larne who wants the Government to come to the realisation that it has been taken for a ride by BT.
Many in England, Scotland and Wales have looked at the FTTC roll-outs in Northern Ireland over the last few years with envy but it seems the job is not totally done yet, i.e. there is no absolute 100% coverage of superfast broadband. Back in 2012 the DETI was looking to identify those spots below the 2 Mbps Universal Service Commitment, and with even people from Ofcom suggesting that a fit for purpose USC in 2015 will be a 10 Mbps minimum we are likely to be chasing our tails for sometime.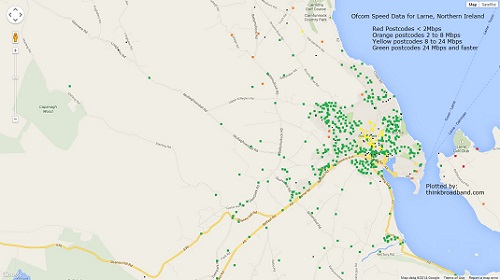 Click image for larger version
The map above shows the situation as far as the data that Ofcom holds, the area plotted comprises of 534 postcodes and some 5771 premises. Of the postcodes 355 are considered to have a superfast service available. This small map is probably not unlike many other parts of Northern Ireland i.e. good coverage in town/village but remote clusters of 2 or 3 properties have not seen many improvements. In theory parts of Northern Ireland have a fixed wireless broadband service, but even though technically this should cover wide areas, there are people complaining about its reliability and customer service.
The problem to date in the UK (and other countries too) is that targets are set, but enough wiggle room is left that people are unsure as to what they will get and when. The current UK targets of 90% superfast for 2015 and 95% for 2017 still leave plenty of people on older slower connections and an increasing number are voicing anger at having to pay extra to get speeds they feel they were promised in advertising years ago e.g. the up to 20 Mbps and up to 24 Mbps of ADSL2+ advertising.
While BT is the easy target and it certainly could do a lot better at making data available on both the commercial and gap-funded roll-outs, that situation has been perpetuated by the weak leadership from those in charge. Though it is not as if the opposition has had much to say on how they would improve broadband infrastructure.
At the end of the day, the UK is attempting to improve broadband speeds but with a limited bag of gold coins and almost everyone has a different idea on how it should be spent, and value for money rather than perfection in how the services are delivered are the top priority.
Comments
Post a comment
Login
Register