The race to bring FTTP to Dolphinholme in Lancashire
Wednesday, January 15, 2014 4:45 PM
A small village in Lancashire has been in line for versions of FTTP for some time, with BT via the Lancashire County Council BDUK project talking of roll-out and B4RN the rural community broadband solution working on their own independent solution.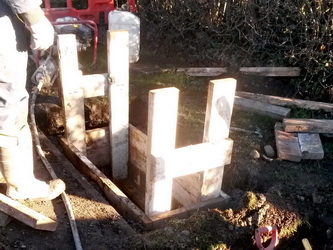 Click image for larger version
To date these behemoths of the FTTP world have not clashed but now that BT has been spotted in the area installing pavement chambers and upgrade work on poles in road verges it seems that the race will actually be to see who can win battle for the actual customers.
What makes things more complicated is that the BT roll-out is part funded by the BDUK and LCC, and the knee jerk reaction is that this must break EU State Aid rules, but the published maps by LCC show the area as a superfast intervention area, and we have previously asked whether B4RN submitted its plans to the Open Market Review but have received indeterminate answers, the belief we have based on previous conversations is that LCC was made aware of B4RN plans but a formal OMR submission was not made. Certainly B4RN has had plans to cover at least some of Dolphinholme as 150 premises are mentioned as part of phase 2. We believe the number of premises has since expanded.
So one the one hand we have the predatory evil vampire death squid that is BT (title courtesy of Public Accounts Committee session) and the plucky English underdog in the form of B4RN. As an exercise for the BDUK/PAC/NAO to assess whether the cost of the BT solutions are value for money this overlap is a perfect opportunity to gather costing information from both BT and B4RN once the builds are completed. Though it is unclear how well the ability for B4RN to negotiate wayleave rights across farmland would translate to a commercial operator.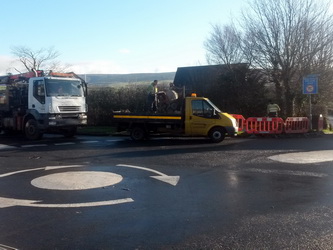 Click image for larger version
NOTE:
Pavement chambers are also used in FTTC areas, so similar work will be seen in those areas.
While at this time it may look like Dolphinholme is the only area of Lancashire getting FTTP via the BDUK project, the current BT plans we are told is for around 10% of the properties in the intervention area to be served by a native FTTP network. The BT network in Dolphinholme is likely to cover around 160 premises in the village with another 140 outside the village and until both BT and B4RN finish and publish final coverage maps we will not know how many properties have the choice of either network.
In a perfect world there would be no overlap between the two networks, but rather than having a massive slanging match, why don't we celebrate the creation of a new start-up community village just a couple of miles from the M6. If B4RN is to expand to its eventual goal of 15,000 properties in rural Lancashire it is likely to overlap other FTTC and FTTP areas.
It is going to be interesting to see who wins the take-up battle in Dolphinholme. Past experience has shown the UK public often votes with its wallet rather than chasing the best product in a particular product area even when long term this may prove to be a false economy.
Comments
Post a comment
Login
Register