RCBF delivers two broadband cabinets in Northumberland
Monday, December 9, 2013 12:07 PM
Residents in Rothbury may care little about whether its BT or another company delivering the service, so long as they can order a better broadband service. It is likely that while there will be lots of anger over BT also benefiting from RCBF funding in addition to the BDUK funding the news of better broadband appearing has to be welcomed.
Rothbury in Northumberland is set to have Environment Minister George Eustice posing for pictures next to its fibre street cabinet that goes live today, and Thropton just to the west will have its cabinet switched on next week.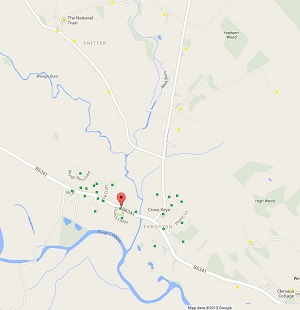 Click for larger image
We believe we have found the likely location of the cabinet in Thropton and our simple geographic plot of the likely speeds for postcodes around it encompasses some 258 premises (the local press indicates the cabinet will serve 167 premises, we believe our plotting is overlapping with some postcodes in Rothbury). The estimated speeds are: 39 properties will probably connect at 60 Mbps or better, 45 @ 40 Mbps and another 77 at 30 Mbps, this covers those properties in Thropton itself, those 22 premises further afield in Snitter and near Hadwen Wood will not be getting superfast speeds, but an improvement on current ADSL speeds is likely.
"Every rural area deserves a good internet connection.

It has the power to transform business prospects and create more rural jobs. Rothbury is the first of many rural areas to receive superfast broadband under the Rural Community Broadband Fund.

It will be a massive benefit to everyone who lives in this area, and I look forward to seeing many more of these projects get off the ground.

The government is putting in £165 million into unlocking the economic potential of rural areas, and broadband is a key part of that."

Environment minister George Eustice
The £165 million quoted is likely to be a mixture of funding from the RCBF and mobile infrastructure project (£20m and £150m), but on the RDBF specifically the only other project we know of that is progressing is the Fell End fibre project that is using £17,400 of RCBF money to connect 58 properties working with BT once more.
The lack of more RCBF projects is down to the very English muddle over the county level projects not being able to define where they will not deliver improvements ahead of the March 2015 deadline for spending RCBF money. This is in part down to BT and the political pressure for counties to take minimal risk and the delays from EU State Aid approval pushing back the planning stages by some months.
Comments
Post a comment
Login
Register