Sky unveil new fibre broadband enabled Sky Hub
Tuesday, December 3, 2013 11:08 AM
Sky has unveiled its latest version of the Sky Hub. The new design in black will allow Sky to offer self-install for their Sky Fibre broadband products as the new Sky Hub includes a VDSL2 modem allow customers to plug it directly into the phone socket without the need for a separate Openreach FTTC modem.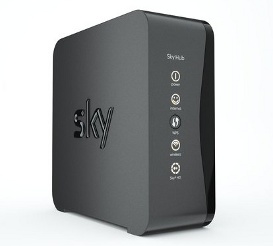 The new router will put Sky inline with BT and their 'Home Hub 5' and EE with their 'Bright Box 2' which already have a VDSL modem built in. The feature set for the new Sky router seems broadly the same as the previous Sky Hub (SR101) we reviewed. For user connectivity it includes 4x 10/100Mbps Ethernet ports and 2.4GHz 802.11n Wi-Fi with 2x2 MIMO internal antennas allowing for data transmission rates of 144Mbps. The actual design and layout of router the router remains unchanged.
The new hub will come as standard for all Sky Broadband Unlimited and Sky Fibre Unlimited customers.
Comments
Post a comment
Login
Register