Poll Results: How much people spend on telecoms services
Friday, November 29, 2013 7:55 AM
Our latest quick poll was a nice short and simple one, tell us how much you spend per month on your basket of telecom services and we had over 1,400 responses.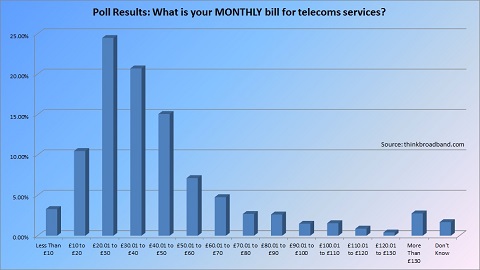 Click for larger image
The peak is 24.5% who said their spending was in the £20 to £30 range, if we combine the three main peaks we have 60% of those taking part saying their spending is between £20 and £50.
This seems slightly low particularly given the voice line rental is hovering at the £15 to £16 mark, but then there are broadband packages starting at £2.50 to £10 per month and if people are using a Pay As You Go mobile package they may not be paying the big price tags. Certainly for those people who do the maths and have worked out that its cheaper to buy a SIM free phone to give them more freedom to chase the best call/text bundle it possible to get the trinity of phone/mobile and broadband to under £30.
For those who are chasing a bargain remember there is a longer annual poll that we are currently running, which has three Amazon.co.uk vouchers up for grabs. The vouchers are £200, £100 and £50 and you can choose to enter or not when you complete the survey. The survey should take 10 to 20 minutes to complete and should work on your pc or tablet.
Comments
Post a comment
Login
Register