First BDUK cabinets go live in Cambridgeshire
Monday, November 25, 2013 11:39 AM
While it would be nice to be announcing hundreds of cabinets going live today, we will have to make do with around ten cabinets across Cambridgeshire that mark the start of real tangible delivery of better broadband in Cambridgeshire.
The Cambridgeshire BDUK project has the aim of getting a fibre based service to 98% of premises in the County by the end of 2015 and the ability to order at some locations today means that the comments about first areas going live before the end of 2013 made in March 2013 have come true.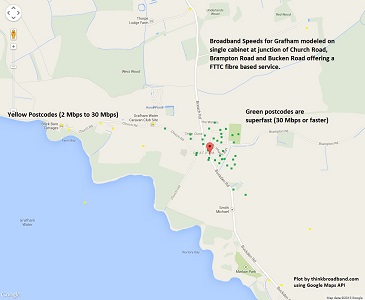 Click for larger image
As with other cabinets there is to be a minor celebration and it is believed that this will be in Grafham today. The map above shows the location of where we believe the cabinet will be, which is in a nice central location for residents and businesses in Grafham. Each dot represents a postcode, and the area shown is around 3.6km by 3km, green dots being those likely to get a superfast (30 Mbps or faster) service, and yellow a lesser (2 Mbps to 24 Mbps). Brick Barn Cottages which is one of the more distant postcodes, is likely to get a speed in the 10 Mbps to 15 Mbps region. The improvement in speeds is very significant as the area had a theoretical speed of around 2.6 Mbps using exchange based technologies.
Update 5:30pm We have taken a look at the number of premises in each postcode, and for the area shown in our map, there is 223 premises. 180 of these we estimate as getting a speed over 30 Mbps, interestingly the bulk of the slower premises are in a single postcode PE28 0BB (looks to be a collection of holiday homes), and at approximately 1km from the cabinet we would estimate a speed around 24 Mbps.
Comments
Post a comment
Login
Register