BT Wholesale checker adds more information for fibre connections
Friday, November 22, 2013 11:52 AM
While Fibre to the Cabinet is not ideal in that speeds fall off rapidly the further from the cabinet you get, for many millions of people it is the only choice for something that is faster than their existing ADSL2+ based services. Take-up of the faster services has not been an explosion more of a slowly accelerating heavy vehicle, with our forums showing that some are now simply waiting for the self-install option because they either cannot or do not want to take a day off work to wait for the engineer to arrive.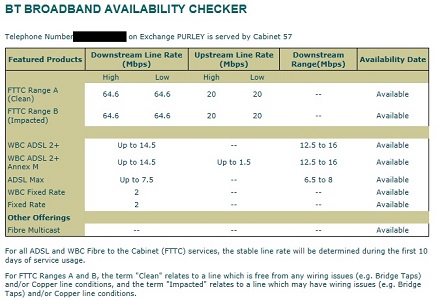 Click for larger image
Self installs look a little bit closer now, as the BT Wholesale checker has changed to reveal two sets of speed figures for FTTC based services, FTTC Range A (Clean) and FTTC Range B (Impacted). For all the lines we have looked at so far the two sets of figures are the same, and the high/low figures are identical, so clearly there may be further changes. The VDSL2 includes testing that can identify bridge taps once a line is active and this is what we are expecting to be reflected in the checker.
NOTE: If the checker does not know your telephone number, which is normal for an unbundled telephone line, use the full address check option. We recommend you avoid the postcode checker, as this is the least accurate way to check a specific property.
What do these changes mean and what is an impacted line? The clue is in the checker text which refers to a bridge tap and wiring issues. In laymans terms an impacted line is one where the VDSL2 service is running slower due to the presence of telephone extension wiring, or other things like non-twisted pair wiring in a home, or bad practice wiring (e.g. not using a coloured pair, but a wire from two different pairs). For the first four years of the FTTC roll-out these issues have largely been avoided, since the engineers arrive and install a filter faceplate and install a dedicated data extension if it was ordered. Once self-install becomes common we expect to see the same wiring issues cropping up that have regularly seen people with ADSL and ADSL2+ getting lower speeds than they should.
Self install should be cheaper for the end-user, and may increase the number of free install offers from providers, and we would guess that TalkTalk will offer an option of their own engineer to look at the internal wiring, while doing other things like setting up a YouView device.
Openreach appears to be gearing up to also offer paid visits to resolve wiring issues, but given how easy the interstitial plates are to fit, with a little guidance we hope that the majority of people will be able to resolve their wiring issues without spending a fortune on engineer visits.
A word on the presence of multicast entries in the checkers, this is not referring to a new type of broadband connection, but is linked to the ability to save bandwidth to cabinet and/or telephone exchange by broadcasting a video to lots of people at the same time, thus is behind things like the live sport offered by BT Sport on the BT TV service, and the copper multicast roll-out should mean that the in time the confusion over whether you get a YouView or BT Vision device will eventually end.
If you have used the checker and there is no cabinet listed for your telephone number this means that you are on an Exchange Only line, and to date have had no option of a FTTC fibre based service. Areas like Cornwall and North Yorkshire are now adding extra street hardware to bring FTTC to this areas, and in counties with the aim of coverage figures beyond 90% we expect the majority of exchange only lines to get FTTC, or as in Cornwall some may actually get FTTP. The situation in the commercial roll-out areas is less clear, particularly for flats which are also in the Virgin Media footprint but unable to order that service, hopefully the in-fill work previously announced will cover a good many of these areas.
Comments
Post a comment
Login
Register