Sky launches its Sky Shield parental control system
Thursday, November 14, 2013 2:04 PM
Sky has now launched its parental controls system, Sky Shield. The new family friendly filters are free to all Sky Broadband customers and as they are network based work for all devices using the homes broadband connection.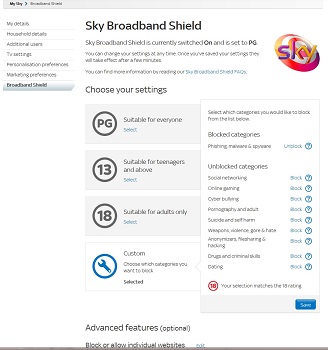 Click for larger image
There is a fourth option available to Sky Broadband customers via their account portal, and this is the ability to customize the filters, allowing you to control which of the ten categories of content to filter out. An additional level of filtering is possible, as there is a white-list and black-list, so that you can make exceptions to the fairly broad rule set that any network based level of filtering will use. Confirmation of changes to the filter system are emailed to the registered email address linked to the Sky account.
While the filtering can be totally turned off, Sky recommend leaving it switched on as at its basic setting it will help to filter out malware and other malicious websites. We would urge continued caution over things like phishing, as criminals rapidly adapt and change tactics no filtering can ever block every attempt to grab your details.
"Protecting customers from inappropriate content in the digital world is something Sky has always taken extremely seriously. Sky has already played a leading role in protecting Sky homes from inappropriate content, as we know that's what our customers expect of Sky.

Now we're going one step further by offering our customers great new technology which means they can feel confident that all their devices in the home are protected. Sky Broadband Shield is a brilliantly simple tool that allows customers to easily choose how much of the internet to let into their homes.

At the same time, it helps protect all our customers against the threat of phishing sites and other malicious websites that may contain viruses."

Lyssa McGowan, Director of Sky Broadband
For web based content that is blocked the Sky Shield does serve a page telling you the site was blocked, but for app based access like twitter you are generally left with the spinning wheel until the request for data times out.
Comments
Post a comment
Login
Register