Connecting Cheshire project publishes fibre deployment map
Tuesday, November 12, 2013 3:54 PM
Another BDUK project has published its first overview map showing what the roll-out will probably look like and thus the people and businesses in Cheshire can now get some idea of whether to celebrate or complain to their MP/Councillor.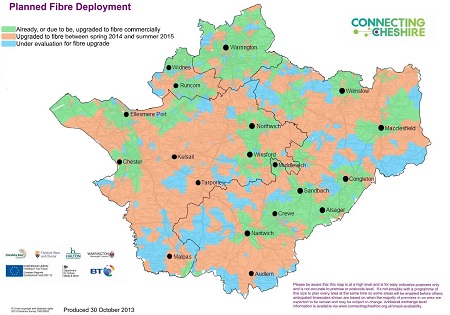 Click for larger image
The map for Connecting Cheshire provider rough details of where commercial superfast fibre based services are available now or will be rolled out to, and then adds coloured areas to indicate which parts will get upgrades between spring 2014 and summer 2015. The project is aiming to push fibre based broadband availability to 96% of premises and with this being FTTC based there will be the range of speeds to take into account based on distance from the green street cabinet.
The project also has a chunk or European funding which is reflected in some of the criteria for how one area is picked for coverage and another left behind.
"There are a range of factors which impact on the viability of the upgrades to fibre within the Connecting Cheshire programme; these include the number and density of premises, the deployment cost, the proximity to existing fibre infrastructure and whether eligible small or medium sized businesses would be served – which is a condition of the project's European funding."
The under evaluation areas which represent 4% of premises will cause the controversy but it appears the project is attempting to secure further funding to push faster solutions above the basic USC level of 2 Mbps to there areas. People should also pay heed to the caveats:
"The information shown on the map is subject to survey and may change; all information, including forecast dates, is indicative only. Forecast dates may move forwards as well as backwards; The areas shown as being already covered commercially by fibre broadband are not included in this project; in those areas not included for fibre we are working to extend the coverage of fibre broadband or use other technologies in these areas; it is not necessarily the case that all premises within an area due to receive fibre broadband will receive it at the same time– different premises within that area may be served by different supporting infrastructure."
We are now expecting the twenty or so exchange areas to benefit from the project to be announced in December 2013 with services starting to be available to order from March 2014 onwards.
Comments
Post a comment
Login
Register