Extending Superfast Broadband after 2015
Monday, October 14, 2013 5:00 PM
The recent industry day event held by DCMS/BDUK to discuss the fate of those likely to be outside the superfast broadband footprint on 7th October has led to predictable coverage and now some of the slides from the meeting are available to help those who did not attend understand better the various moans and groans that have emerged from the meeting.
We blogged about some of the aspects and coverage last week and are struck by the things that have been overlooked in the reporting so far on the meeting.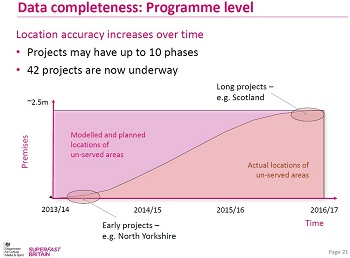 Click for larger image
The above slide is very important, as while the big headlines have been that we will not know where the slow-spots will be for many years, the reality that the DCMS is expecting is very different, i.e. that as those projects that started first complete their various phases we will be able to say with increasing certainty where the areas without access to superfast broadband will be located. The slides do touch on the aspect that this 'final 10%' is also not really a final ten per cent but will vary across the project areas.
As with all these sorts of meetings no actual problems got solved, but people got to air their grievances and while meetings like this may appear to be a new side of the BDUK process, they do not sound unlike the sort of thing that was happening back in 2008/2009.
Our blog touched on the 'Minimum 15 Mbps to end users for 90% of the time at peak times' which has caught the attention of some who think this is a watering down of the 30 Mbps superfast specification, but when one considers that in the days of 50:1 type contention ratios. providers budgeted on 50 to 100 Kbps (Kilo bits per second) per user, a baseline peak time performance of 15 Mbps sounds pretty good to most people, the emphasis being this is a minimum expectation, not an average or median. As if by magic the Openreach FTTC products have had a prioritisation rate of 15 Mbps (on 40 Meg service) and 30 Mbps (up to 80 Mbps product) for a good length of time. Of course the key then is whether the wholesalers and retailers purchase capacity to avoid pinch points in other parts of their network.
For the larger providers it is pretty easy to track whether there are congestion issues, and while our previous analysis did not explicitly track this, we do know when speed tests are done and it will not be hard to spot if one provider is showing a worse peak time performance, or whether the actual fibre platform is the issue.
Comments
Post a comment
Login
Register