UK close to top of ITU ICT development index
Tuesday, October 8, 2013 12:31 PM
The UK has positioned very close to the top of another study that looks at various metrics around Internet use, price and other factors. The ITU has published its Measuring Information Society report for 2013 which put the UK in eighth place in a table of 157 countries for an overall metric that measures ICT development across the globe.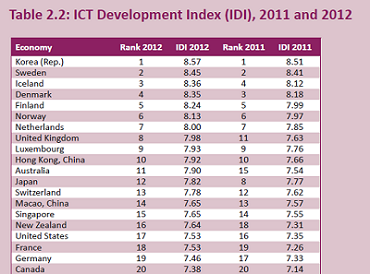 Click for larger image
The goal of the current round of spending was to allow the Government to claim in 2015 that the UK had the best broadband of major countries in Europe and this study suggests that compared for France, Germany, Italy and Spain we are doing very well. The Netherlands and the Nordic nations do better, but in terms of population size they are not comparable. Earlier in 2013 Ed Vaizey MP declared the UK was in rude health in the broadband arena.
Price of broadband is something that the UK is acknowledged for being very competitive in, and this is reflected by the UK being in 4th place when ranked with the broadband price as percentage of Gross National Income per capita (an affordability measure), with a price of $20.8 for an entry level service. Reading into the ITU document, this is actually the price of a single entry level product, rather than a full market analysis, and covers just the broadband element, the recent launch of SimplyBroadband from TalkTalk at £2.50 per month would probably make us even higher. We suspect the pricing was based around something like the BT Retail 10GB broadband service which has a standard price of £13 per month currently.
"BSkyB in the United Kingdom and Ireland is a rare exception: the company takes advantage of the local loop unbundling regulation to complement its services offered through satellite infrastructure with on-the-ground infrastructure from the incumbent. This is only possible in a small number of countries, since local loop unbundling is not available in the majority of countries."

Quote on LLU in the UK from ITU MIS 2013 report
One reason that UK pricing is so low is the level of unbundling of the local loop in the UK, which has allowed operators to compete without the need to invest in final mile infrastructure. While suggest that since the Openreach local loop is still used there is little difference between providers, with over 9.2 million LLU lines the public seems happy enough to switch around to find the best deals.
The age old problem is that as most of us reading this are based in the UK, we know intimately about the various slow-spots for broadband, but are all too often are only exposed to the PR material from other countries, and as we all know if promoting your achievements you emphasis the good. Do we do too much moaning over a cup of tea in the UK, rather than getting on building stuff?
Comments
Post a comment
Login
Register