Race to Infinity - some areas not completed yet
Thursday, October 3, 2013 5:54 PM
This news item is a mixture of good and bad news, and perhaps illustrates a wider frustration that our mailbox sees now and then. That is the FTTP based roll-out by Openreach was started and then for many areas appeared to go on hold, and last week when the people of Madingley, Cambridgeshire contacted us the roll-out was still stalled, amazingly by the end of the week new bits of FTTP hardware had appeared in some of the exchange areas. This problem is even more galling as some areas affected were part of the Race to Infinity competition back in 2010/2011.
"The vast majority of premises in the Madingley exchange area do have access to super-fast broadband as a result of the Race to Infinity Programme. We have experienced some practical challenges in connecting the remaining premises, as this has involved use of new overhead fibre technology. However, we have now commenced the final build stage for this project and would expect the remaining properties to gain access in the next couple of months."

BT statement on Madingley rollout
The speeds people are getting can be seen on our broadband maps where if you supply a postcode when doing a speed test you will be helping to show others what is available in an area. Strympole Way is odd as it appears that both ends are served by a full fibre FTTP network, but stretches are not and the repeated reason for partial roll-out is overhead cabling issues, which the photo below shows that the street itself is all underground ducted.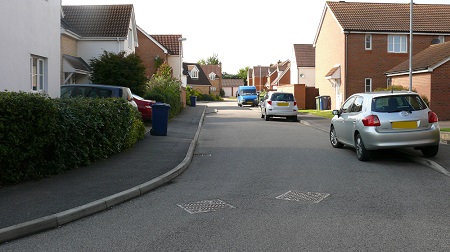 Strympole Way. Pictures supplied by Caldecote resident
The Madingley exchange area covers Caldecote, Childerley, Coton and Madingley itself and there is some overhead fibre needed and this is exactly what hardware appeared last week, in the form of fibre splitters and manifolds. Each splitter will usually service several manifolds, with the final fibre drop from the manifold to each of the 8 to 12 properties it serves only being installed once someone orders a service.
"So with service available to only about half of Caldecote and half of Hardwick by May 2013, Annette Thorpe, BT Partnership Director for Anglia Region, attended a number of public meetings to explain what was going on. Apparently there was a problem with delivery of fibre by overhead poles and a new technical solution was being designed. This new solution would be ready for delivery within a few weeks.

Apart from the fact that there has been no further progress in the following five months, the excuse about overhead delivery made people suspicious and even angry. Several streets in Caldecote have had many houses enabled, yet about half remain stubbornly on super-slow broadband. This is in spite of the fibre cables already having been laid in the ducts and there being no telegraph pole in sight. (See attached photo.) Whether or not you get Infinity seems to be down to some kind of house number lottery. Even the roads that do have poles have had fibre laid to the foot of each pole, sometimes necessitating the road to be dug up for new ducts to be laid."
There are some hints, that with the slightly more unique roll-out where the ISP BT Retail is also involved in driving demand it has complicated matters, but we suspect it is much simpler, Openreach was never set-up to be customer facing and while the engineering staff do stirling work, there appears to be a reluctance to call a spade a spade and be clear about the plans and update locals about delays. In theory the Race to Infinity scheme offered Openreach a chance to engage alas a lack of positive engagement and some would say a culture of secrecy makes things harder. The regulatory barriers imposed by the separation of Openreach from other parts of the BT Group, while still behest to the group CEO and board probably does not help.
Fingers crossed the recent work does mean that the remaining properties will be able to start enjoying true fibre connectivity, and while it appears no one has ordered the fastest 160 Mbps Infinity package, opting for the cheaper 40/10 and 80/20 product the reliability of full fibre should be a bonus and no worries about home to cabinet distance.
Other retail broadband providers also need to pay heed and wake-up to the presence of Openreach FTTP based services, as for the general public the only option would appear to be BT Retail and given the wholesale pricing is the same as FTTC and the same routers will work with the Openreach hardware it is of some concern that Sky and TalkTalk are not selling the services. PlusNet has run a small trial and it is believed it may be possible to sign-up, but their sales pages give no hint of this. There are other SME type providers who offer FTTP products as well.
We have had a quick look at the other Race to Infinity exchange areas that won the competition and all have some form of fibre service available, how complete their rollout is is impossible to tell, as we are seeing a mixture of ADSL and FTTC/P service speeds.
Comments
Post a comment
Login
Register