DCMS talks rural and farms for BDUK projects again
Tuesday, September 24, 2013 5:55 PM
The carefully crafted illusion that the £530m of money from central Government is being spent on farms and rural areas continues with the latest progress update on the BDUK projects.
The reality of the BDUK project is that the national aim is to get 90% of the UK able to access a superfast broadband connection in 2015, i.e. building on the commercial level of superfast coverage which is sitting at 73%. This means that if one accepts Ofcom data where 14% of UK premises are considered rural, that while some truly rural areas will benefit the majority will be semi-urban, or in other words market towns and villages.
"The transformation of broadband in rural communities has begun and the coming months will see a rapid acceleration in the number of rural businesses and homes able to access superfast speeds. Average rural internet speeds are increasing at a tremendous rate and local businesses are already starting to benefit from all that superfast speeds have to offer."

Communications Minister Ed Vaizey
The fact that some 100,000 premises now have the option of access to a fibre based broadband service (hopefully at superfast speeds) was broke back in August, hence its inclusion in our Broadband factsheet, and the talk of the BDUK roll-out reaching 40,000 premises per week while encouraging still looks to be slower than the commercial roll-out.
The good news though is that unlike many procurement projects the projections are not decades over the original target which was the General Election in 2015. The magic 90% barrier is expected to be crossed by early 2016. The chart below shows what the National Audit Office projected, based on incomplete data from November 2012, with their estimate crossing the 90% line in May 2016.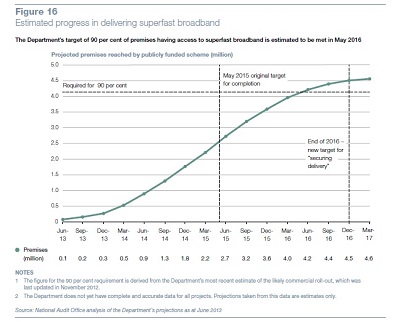 Image taken from National Audit Office report earlier in 2012
The funny but slightly worrying part about the DCMS press release, is the picture of some nice Ethernet cables, which is described as a fibre optic cable. We wonder how long after pointing this out it will be before the DCMS find something more suitable (hint this is what fibre really looks like).
Comments
Post a comment
Login
Register