iOS 7 update rush causes Internet peak but does not break it
Thursday, September 19, 2013 1:56 PM
Large download events can induce nightmares both before and during peak times for infrastructure managers and while the LONAP (London Access Point) statistics show Wednesday at its peak was almost twice as busy as other nights the Internet appears to have survived. For some iPhone users it is not clear if their sanity survived from reading the moans and groans on twitter.
We have taken a look at a good number of our Broadband Quality Monitor graphs and the story is very variable, in some cases there is no evidence of a major event and on some connections people are seeing significant changes in latency. Now this may actually be the effect of someone on an individual connection downloading the iOS 7 update (which weighs in around 750 MB), or just doing what they normally do with their connection, or a common pattern of congestion on part of a providers network. Those who saw no effect at all in terms of latency may just be blessed with a provider with lots of spare capacity, or traffic management to cope with these peaks, or the diverse routing of the Internet simply means that some routes out of a provider may have not been impacted all.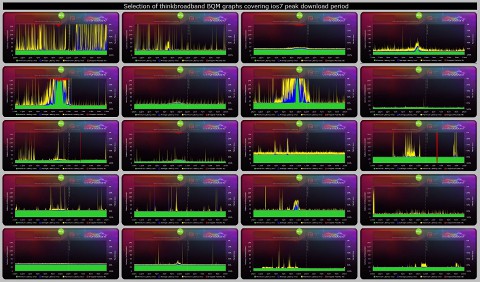 A high resolution image (1920x1080) is available here
We have not identified the providers in this collage, but there are graphs from all the top 5 providers in the collection. The strength of the BQM tool is really the monitoring of a connection over time, and understanding your individual normal pattern or for remote monitoring of a connection, e.g. detecting downtime and re-syncs which show as a top to bottom section of red.
Comments
Post a comment
Login
Register