Want superfast broadband, then consider Northamptonshire
Wednesday, September 18, 2013 5:06 PM
Northamptonshire County Council appears to be pushing on with its ambition to bring superfast broadband to every property and business in the County for 2017. The current BDUK contract is aiming for superfast coverage of 90% in 2015 and 2 Mbps for the rest of the county, this will be achieved via the contract with BT, but what is of interest is the emerging plans for the work to increase the speeds from a basic 2 Mbps to 30 Mbps and faster in the final 10% of the county.
The Government made a grand announcement of 95% of the UK having superfast broadband in 2017, so Northamptonshire is going well beyond that, and it is also looking to not just run a BDUK process round 2, but is working on a variety of investment models including secured loans offered on a commercial basis to support superfast network deployment, with the hope that some of these might start delivering even before the current BDUK contract completes. For more detail head over to a blog entry on the superfastnorthamptonshire.net blog and have a read of the Economic Update Report.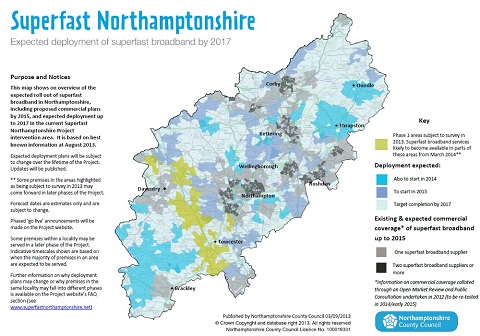 So good news for 2017, but the often asked question is when will I see an improvement, and while same may say the broadband maps published by the counties are worthless and carry no firm commitment, they do at least give an idea as to when to expect any improvement or not. In the case of Northamptonshire, it shows that phase 1 appears to be follow the A5 through the county. The planning and survey work started in August 2013 which involves checking that suitable locations can be found for cabinets and power is available at a reasonable price. Then the age old problem of wayleaves may need to be dealt with, something that with community projects can be overcome with a cup of tea and biscuits, but with more commercial projects people often want their own slice of the pie in the form of cold hard cash for granting a wayleave.
The report from the council suggests that the first areas of phase 1 to go live will be announced by December 2013 and the first customers connecting before March 2014.
Comments
Post a comment
Login
Register