Poll Results: How important is broadband to people?
Thursday, August 1, 2013 10:45 AM
Broadband is now clearly a utility service and our recent poll which posed two questions on the importance of broadband has shown that broadband is a key factor when looking for property to rent or buy.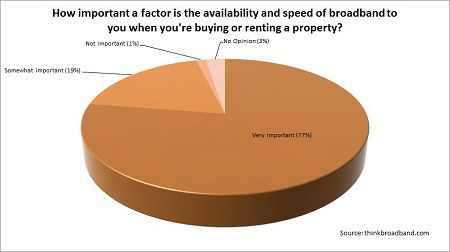 (click image for larger version)
Over three quarters of people taking part in the poll elected to state that broadband availability and speed was an important factor, and once you combine those who said it was 'somewhat important' you have a whopping 94%. The poll results are based on a sample size of 1,150 responses.
Now while the visitors to thinkbroadband may be those for whom decent Internet access is more important compared to the average person on the Clapham omnibus, with all the changes in how we interact with the Government and its many tentacles moving to digital by default it is clear that even among those for whom the Internet is not a big part of their daily life, it will still need to be considered when moving home.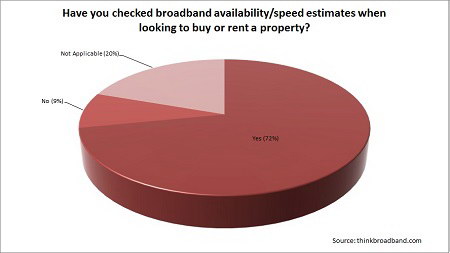 (click image for larger version)
Our second question looked at whether people actually did anything to check speeds when moving, and 72% do, which is reassuring. The 20% who said not applicable will mainly represent those who have not moved property in the years since broadband has been a big thing. Alas tales of people moving to a street and only discovering later that speeds are poor still occur and while the pre-sales estimates are not perfect, we would urge people to check those and find out what speeds a current resident can achieve via a speed test.
The increased importance of broadband raises the serious issue of whether the 2 Mbps Universal Service Commitment is fit for purpose and the possibility that any further gap funding expenditure post 2015, should include a tougher obligation to help ensure that poorly served areas within a postcode do not slip between the statistical cracks.
Landlords and house builders need to pay attention, we are seeing some property rental listings include details about cable coverage, inclusive Wi-Fi and other broadband terms, but alongside the dimensions of shoe cupboard an indication of speed at the property is likely to prove attractive. The big property firms that are building large new estates like Kings Reach in Biggleswade also need to pay close attention and work better with people like Openreach, Virgin Media or another provider to ensure modern broadband options are available as soon as the first people move in. With the roll-out of superfast broadband, the gulf between those with good speeds and bad is the widest it has ever been and is getting wider.
Comments
Post a comment
Login
Register