Reality of being in the last 6% hits South Gloucestershire village
Friday, July 19, 2013 5:54 PM
BT has appeared to confirm that a small village near the Severn Bridge in South Gloucestershire is set to be left in the broadband slow lane for some years yet, with no upgrades for the village planned either commercially or via the BDUK process.
The fate of the village was spotted by Mark over on ISPreview and is covered initially by the local newspaper. We are a little puzzled as the wording of the original article is not 100% clear whether the BT regional manager is referring to just the £2.5 billion commercial roll-out or includes the BDUK project for the area.
South Gloucestershire and Wiltshire is actually one of the handful of projects to publish their intervention maps which was put online at the time of the contract being signed in January 2013, and as you can see Elberton is just outside the intervention area.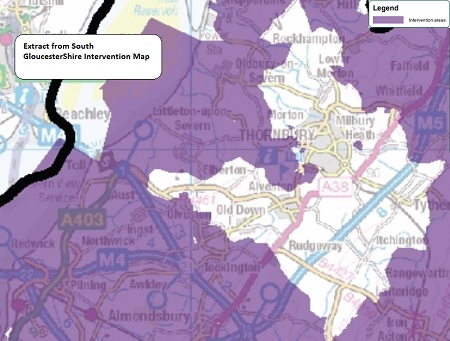 The question really should be what speeds the area currently gets and whether there has been a mistake in evaluating the properties. It is understand they are connected to a cabinet that Alveston which is too far for superfast speeds at around 2.4 miles, and this may be the problem the original analysis may have overlooked the cabinet to premises distance and be due a re-assessment.
The BDUK project in the area is aiming for 94% coverage of superfast services, which sounds like all but a handful of very remote areas would be service, but this actually works out as some 21,800 households that could miss out.
The problem now is does the council re-assess the area, or are intervention areas to be set in stone once the contract has been signed so that BT cannot be accused of monopolist behaviour?
Comments
Post a comment
Login
Register