EU Digital Agenda Scorecard shows UK doing well
Wednesday, June 12, 2013 2:37 PM
The EU as part of its Digital Agenda targets is monitoring the 27 EU countries for a wide range of metrics and has recently published its 2013 updates and contrary to the 'we're doomed' chorus that seems to accompany a lot of the coverage around UK broadband in many areas we are doing pretty well and it likely to that Jeremy Hunt's statement of the best broadband of a major European country may well be proven true to the annoyance of many.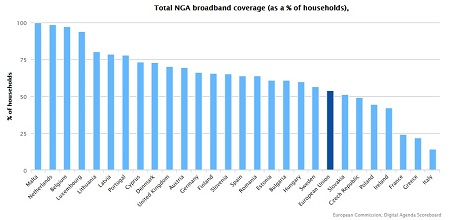 (click image for larger version)
The above chart shows the standing of the UK in relation to Next Generation Access coverage, in other words how widely available super fast broadband is, and the UK at 11th out of 27th with 70.3% coverage is ahead of Germany (66.2%), France (24.2%), Spain (63.9%). The big question mark now is why if superfast is so widely available, does the UK sit in the middle with a take-up rate of 15.5% for superfast services?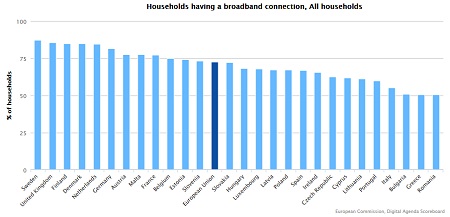 (click image for larger version)
It also seems that while we are worrying daily about how to improve broadband speeds for the most rural parts of the UK, that the current speed problems have not stopped us from only being second to Sweden in terms of the number of homes with a broadband connection subscription (85.6% versus 87%). Interestingly if you drill down into the data and look at households in sparsely populated areas (rural) the UK is leading with 87.2%, Sweden second at 85.4% and moving down the table Germany at 79.7%, France 71.7% and Spain 57.8%.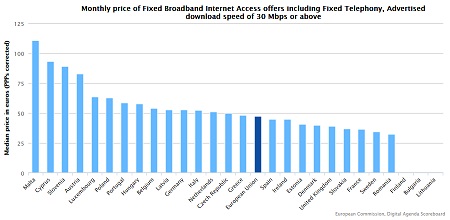 (click image for larger version)
The price of superfast broadband services is probably the most often stated stumbling block when people are looking at better broadband but the UK fares suprisingly well, since for a broadband/telephone bundle we are the fifth cheapest country when looking at the median price and fourth cheapest if you for the same bundle but where the advertised speed is 8 Mbps or faster.
If you want to delve into the statistics there is a good tool that gives access to the many metrics and filters on the Digital Agenda website.
Comments
Post a comment
Login
Register