Poll Results: Three quarters want a naked DSL option.
Thursday, May 23, 2013 2:57 PM
The debate over the requirement to have an active voice line rental product on a telephone line is always bubbling away, but with the year on year rises in the cost of basic voice services while the cost of broadband is decreasing more people question the need for voice line rental. We ran a poll for seven days that attracted over 1,600 responses and gave a clear response with 78% saying they would like a naked DSL option.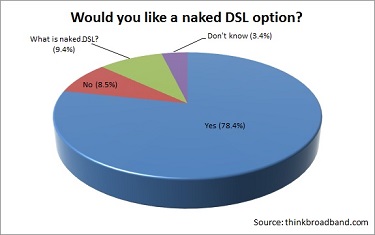 (click image for larger version)
For the 9.4% who did not know what naked DSL is, it refers to a copper telephone line that does not support voice calls, but can be used for broadband i.e. ADSL, ADSL2+, SDSL and VDSL2. In the 13 years that ADSL has been commercially available in the UK Ofcom has said that there is no commercial demand for naked DSL, but it seems the public is keen for an option.
Many people may think that by not having to pay voice line rental, they would save £10 to £16 a month, but part of the cost of providing a phone line would still need to be paid, hence we asked people what would be fair for a telephone line that cannot be used for calls.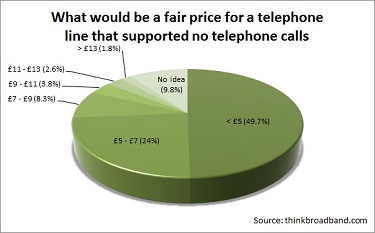 (click image for larger version)
No real surprise to find that half opted for the under £5 per month option, with what may be a more realistic figure of £5 to £7 per month chosen by 24%. The current wholesale pricing is such that a basic phone line with broadband support costs £7.09 to £8.77 (plus VAT) per month. So the real question is whether removing voice support can produce a lower price, or whether the regulator needs to enforce an option. There is a school of thought that by undermining the income from copper landlines, it would encourage a move to fibre by the operators, but conversely if copper broadband is made cheaper people in the current financial climate may prefer slower and cheaper broadband.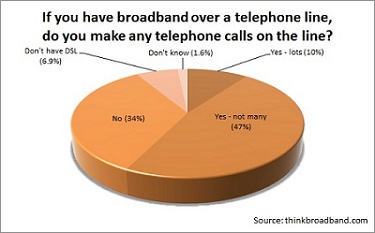 (click image for larger version)
Most of the time the calls for naked DSL are followed by the assertion that the person never uses the phone line for telephone calls which is actually the case for 34% of those in the poll, 57% use their landline for calls but only 10% make lots of calls. We presume the third not using the landline rely on their mobile or one of the VoIP services. VoIP carries the advantage that call costs are in line with or lower than a landline usually and for groups of home workers allow you to have a phone system that is the same as being in a large office.
We suspect that a big part of the reluctance to offer naked DSL at the retail level is that telephone and broadband bundles are increasingly reliant on revenue from the chargeable calls made over the landline.
In the short term, if you are one of those who does not use the telephone line and only needs it for the broadband service, check whether your telephone provider allows you to pay for 12 months line rental in return for a discount, or if you are on a WLR based telephone service shop around for the best line rental deals.
Comments
Post a comment
Login
Register