Poll Results: BT Sport what do people think of the new sports package
Friday, May 24, 2013 6:12 PM
We now have the results from our poll that asked our visitors about BT Sport and it seems the devisive nature of sport, as in if you support one team you are required to hate all other teams may be carrying over into the broadband world. Why? Well of the BT customers who responded an almost equal split (54% yes, 46% no) occurred when asked whether the addition of BT Sport was a good free add-on to their package.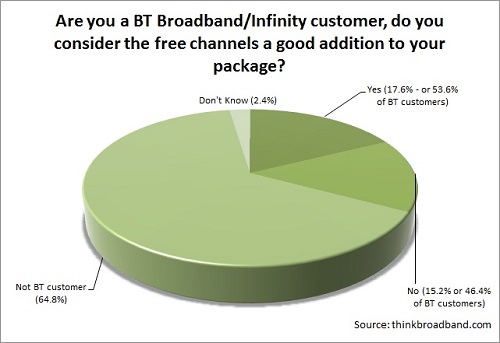 (click image for larger version)
The poll attracted over 1,100 responses which ran for a shorter than usual period due to it overlapping with a naked DSL poll. The coverage of the launch of BT Sport was wall to wall for a few days, probably driven by the importance of the sports sections in the daily newspapers so it is interesting to find that free BT Sport was only going to affect provider choice for 17% of those taking part. This seems a small figure, but in a competitive retail market, even a 2% advantage on your competitor would be good. Only time will tell if the low cost TalkTalk approach where Peppa Pig is the or the BT Retail approach of bundling premium content wins.
The issue of price for those not with BT was a common theme in the comment sphere, particularly as keen followers of Premier League Football may be looking at buying both a Sky Sports and BT Sports package to see as many matches as possible on at home. The final question looked at what people thought of the £12 subscription (£3 extra for HD) and around 15% thought it was about right, but over a third felt it was too expensive. The British love hate relationship with subscription TV is shown by some 36% saying they will never pay. It is possible that this love of free-to-air services is also reflected when we asked people about subscription TV a couple of months ago. Part of this maybe that many feel they are already paying for TV via the TV Licence at £145.50 per year.
Comments
Post a comment
Login
Register