More than 50% think Ofcom should regulate BT Infinity pricing
Wednesday, May 15, 2013 9:55 AM
The recent opening of a complaint by Ofcom on the subject of margin squeeze in the FTTC/FTTP products sold by BT Retail and delivered over the Openreach platform in the local loop prompted us to run a poll to see what the level of feeling was amongst the public.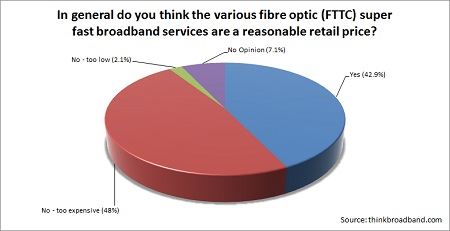 (click image for larger version)
The poll attracted over 1,300 responses, and while 42.9% agreed that the current price of FTTC services was reasonble, a higher 51.7% thought that Ofcom should regulate the retail price of the BT Infinity product so that competitors can under cut. In a market where the Openreach FTTC products are becoming more popular, the disparity in sales between TalkTalk, Sky and BT Retail was brought into focus by the BT Group financial results, where only 200,000 of the 1.5 million Openreach FTTC/FTTP connections are via someone other than BT Retail.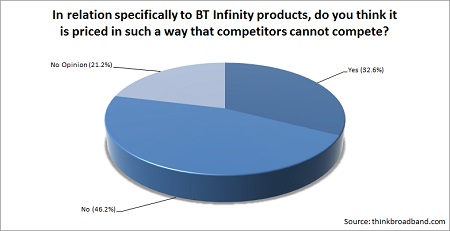 (click image for larger version)
There does appear to be a slight dichotomy in the responses, as while 32.6% felt that BT Infinity pricing was priced so that competitors cannot compete, this was around 20 percentage lower than the number who thought regulation was needed. The explanation may be that people are looking at the bundling where the voice service is often bundled with the superfast service, and this can help to subsidise the broadband elements of the service, relying on the money made from the millions who vote in the various 'talent' competitions on TV.
One area that did surprise, was how closely the poll comes to mirroring the stated coverage for superfast services by Openreach. We had 52% saying they can get a FTTC or FTTP product from Openreach, and another 9.2% are expecting it to be available soon.
With the BDUK local authority projects, if Ofcom was to regulate the pricing that Openreach makes its GEA-FTTC and GEA-FTTP products available at, this could have implications for the return on investment and gap funding calculations used. Any regulation that increases the retail price of BT Infinity as it stands runs the risk of dampening the embryonic super fast broadband market. Perhaps what is needed is for Ofcom to enforce a short term discount for a six month period and if TalkTalk and Sky can show in that timeframe that by having a lower price they can compete and thus drive significantly more sales on the superfast broadband products the discount becomes permanent.
Comments
Post a comment
Login
Register